Omar Bravo Confident in Tri under José Manuel de la Torre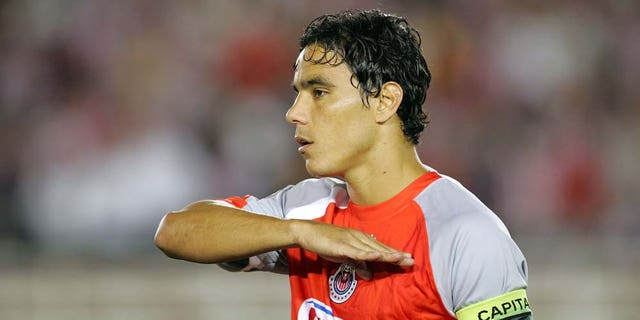 José Manuel del la Torre makes his debut as coach of the Tri, the Mexican national side, against Bosnia-Herzegovina in Atlanta Wednesday and veteran forward Omar Bravo hopes expectations aren't too great on the new man in charge or the team.
Bravo, who knows de la Torre from when the coach directed Club Deportivo Guadalajara in 2006-2007, believes "Chepo" is the right man for the job.
Mexico traditionally has not been patient with its national coaches. De La Torre, 48, is the eighth man to coach El Tri in the past decade.
"He's got all the qualities to be able to succeed and make the Mexican team as successful as everybody expects," Bravo said recently. "But like any other coach in his position, they have to allow him to build his reputation and build the process up.
"It just can't be a six-month process, and if you don't show results, you're out. He's got everything he needs to be successful," he added. "It's just a matter of how much time they're going to allow him to build his team up."
Bravo, who was not selected by de la Torre, hoped that the fans and media will be patient with the coach, not only in international "friendlies" and CONCACAF Gold Cup matches, but in World Cup qualifying matches as well.
"There's a lot of pressure from the media and fan base," Bravo said through an interpreter. "Sometimes it has the tendency of getting out of hand and getting away from reality because at the end of the day, we have to realize what our strengths in Mexico are and be realistic about it."
Bravo also believes that comparisons to other countries only serve as unrealistic distractions.
"People try to compare us to Brazil, Argentina and Uruguay. It's just not realistic to be doing that," Bravo said. "It's a whole process building up to the World Cup and they have to allow that process to evolve and not just to expect Mexico to win every single game because it doesn't happen with every other team in the world either.
"It ends up creating this excess pressure when all we have to do is to allow the process to move along," he added. "The results will come with time."
Bravo, who has scored 15 goals in 62 international matches, noted that the expectations and pressure with the U.S. National Team "is exactly the opposite" to Mexico's situation.
"It feels like the media and the pressure of the fan base is a lot more tolerant and patient," he said.
It should not be surprising that Bravo knows something about American fútbol because he has been studying the sport north of the Rio Grande the past several years. He recently signed with Sporting Kansas City of Major League Soccer.
"I wanted a new challenge in my life and the Kansas City team figured like the right challenge," he said. "I knew about the caliber of the league. I had been following it for a number of years now. I knew the level had risen very much. I was excited to be able to take an opportunity and possibility bring my experience and make a difference here in the United States."
Bravo, 31, had noticed how competitive MLS teams had become in tournaments such as Super Liga, which has pit U.S. and Mexican club teams in summer competition since 2007.
"I've noticed how it's not a situation where the U.S. teams are in a bad position anymore," he said. "It also is pretty evident that the number of American players who have gone to Europe has grown a lot. So that shows there is more and more interest in American soccer players and in the league. I especially noted the talent has grown tremendously and the physical conditions of the game are much higher than in Mexico, for example."
Many a Latino player has underestimated how physical a league MLS can be, and has underachieved. Bravo said that he was ready, though.
"I clearly understand that," said Bravo, who added he will do some extra strength and conditioning in the pre-season "to sustain the demands of the game here."
"That will not be a factor that's going to be a deterrent for me," he added. "It's just a motivation thing."
The key to success? Bravo said it was being able to adapt.
"Wherever I have gone – and I've been to Europe already – as a player, if you don't adapt, you're going to fail," he said. "I always to try my best to be able to adapt."
Some Mexican players have thrived in MLS, while others have struggled.
"I certainly understand that some players have failed and others have succeeded," Bravo said. "But that's true in any part of the world. As long as you come with the right mentality and you understand that you have to adapt to whatever the situation is, you're going to be successful.
"I'm not worried about that," he said with confidence. "I'm very, very motivated to give my all and hope for the best."
Michael Lewis, who has covered international soccer for three decades, is a regular contributor to Fox News Latino. He can be reached at SoccerWriter516@aol.com.
Follow us on twitter.com/foxnewslatino
Like us at facebook.com/foxnewslatino