Olympics Soccer: Mexico's Olympic Resiliency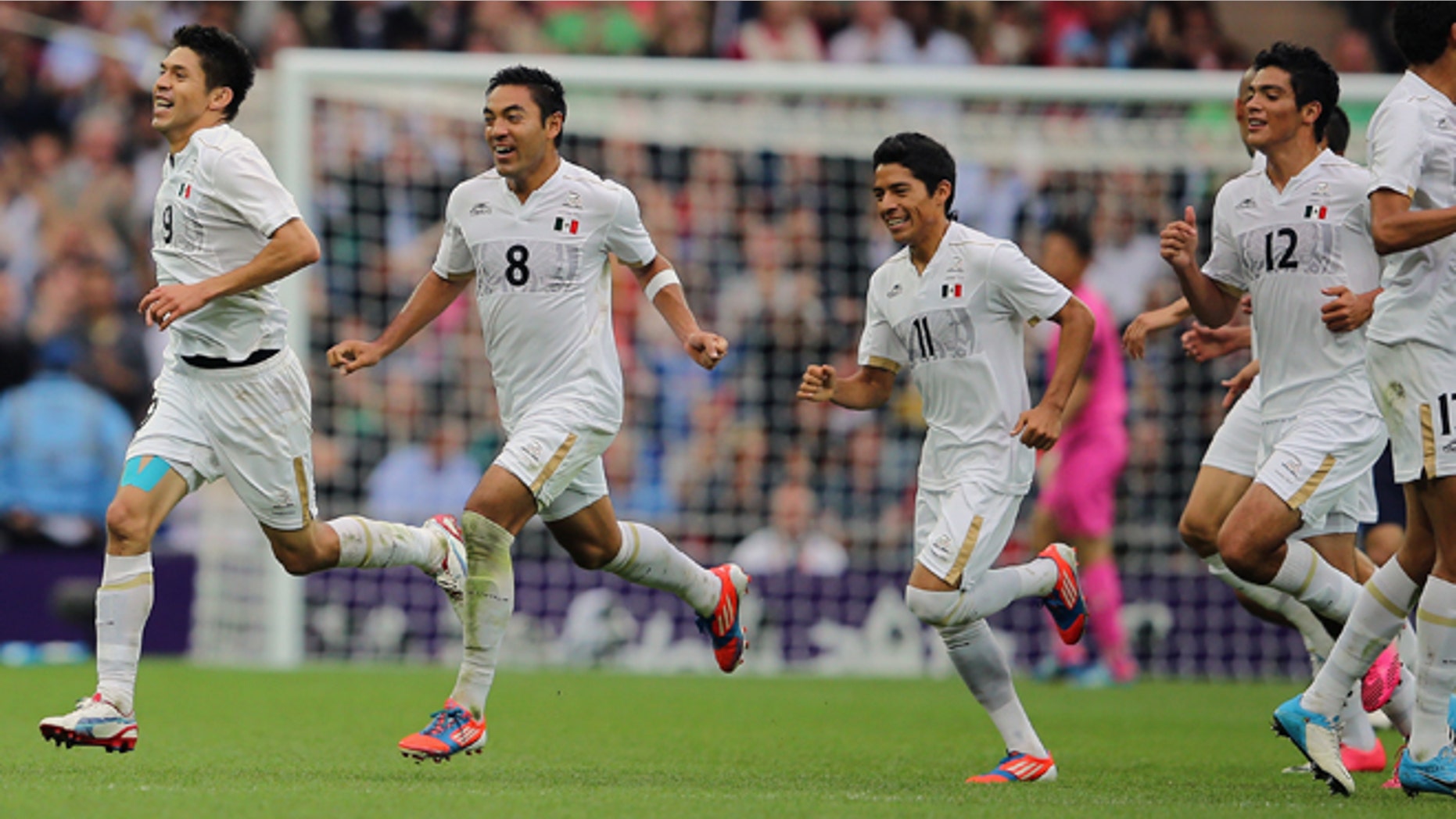 LONDON – Mexico has shown some remarkable resiliency in these Summer Olympics.
First, El Tri was deprived of the services of super goal-scorer Chicharito (also known as Javier Hernandez when he isn't filling the net or making life miserable for opposing defenders), thanks to a decree by Manchester United manager Sir Alex Ferguson that denied him a place on the Olympic team.
Then, the Mexicans were forced to play the entire second half of their 3-1 semifinal victory over Japan without playmaker Giovani dos Santos, the go-to man when the team needs a goal or a scoring opportunity creates.
With dos Santos sidelined with an undetermined leg injury for the final 45 minutes of Tuesday's game at Wembley, Mexico scored twice to break a 1-1 deadlock to ensure its first Olympic soccer medal of any kind.
Oribe Peralta took advantage of a Japan defensive error to strike in the 65th minute and 11th-hour sub Javier Cortes tallied only three minutes after he stepped onto the field in the third minute of added time. Japan had taken a 12th-minute lead on Yuki Otsu's strike, but
Marco Fabian's header equalized in the 31st-minute off a dos Santos corner kick, which was the first Japan surrendered in this tournament, snapping a 391-minute shutout streak.
As of Wednesday morning, it was not known whether dos Santos' injury would sideline him for the final.
"He is injured," Mexico coach Luis Fernando would only say. "We are not sure if he could play in the final."
Against a team such as Brazil in Saturday's gold-medal match, Mexico will need as many weapons as possible, and that includes dos Santos.
Still, regardless how they fare, the Mexicans already have made history, reaching the final for the first time in their history.
"I understand the happiness of Mexico, which is a footballing country," Tena said. "They must be partying back there."
His players also did some partying and singing in their joyful locker room afterward. But they know they have a difficult task at half at the same stadium on Saturday.
Tena said it was "the most satisfying moment in my career. I hope the whole country is enjoying this for what we have achieved. . . . If this is the best historical result for Mexico to get to the Olympic finals, I don't know. That's up for the media to decide."
Here's one opinion from the media: it is the top moment in Mexico soccer history. This may not be the World Cup because soccer is just one of 30-odd sports here. Besides, the Mexicans' best finish at the world championships was the quarterfinals.
"This is special, this is emotional, but the most important is yet to come," Tena said.
That is Brazil, which is on another level than Japan.
The Japanese has some fine players, but none in the class of Brazil's Neymar, who can create goals and scoring opportunities out of nothing and a scoring machine such as Leando Damaio, whose six goals lead the men's competition. Brazil coach Mano Menezes made a key personnel change with Pato Alexandre and Leanrdo Damiao.
"When we made the selection, Pato was hardly playing at all so Damiao was already a very important part of the squad,'' Menezes said. "I wanted to keep Damiao in the team until he scored a goal and that plan has obviously worked. He is a very important player for us but it is more about the team than the individuals."
Saying that, no team is invincible and Brazil can be beat.
Just ask Honduras, which made the world power sweat and then some in its 3-2 quarterfinal loss. The Hondurans played the Brazilians as tight as you can while letting their foes know they were on their back with a constant physical game. It helped them take 1-0 and 2-1 leads before the physical game caught up with the Central Americans, losing a player to a red card for the final 57 minutes.
The Brazilians have some huge motivation as well, not having ever won an Olympic gold medal, despite having five World Cup titles under their belts.
"We have made a huge effort to reach the final," Leandro Damiao said. "We are here to win the gold medal -- it was a tough match but we are a great team. We are Brazil. We are here for the gold."
So is Mexico, even though a silver lining would be history as well.