Oklahoma St. kicker and last week's hero latest to land Snyder letter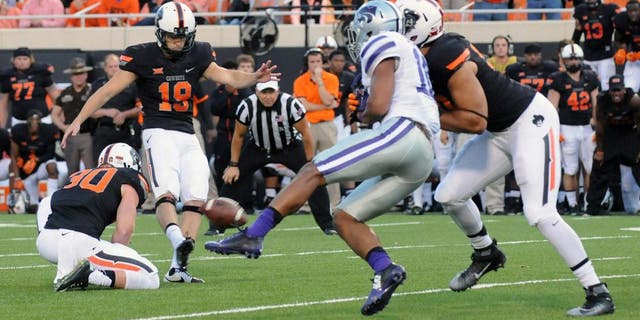 NEWYou can now listen to Fox News articles!
Kansas State coach Bill Snyder is legendary for writing handwritten notes to opposing players who perform well against his Wildcats. Oklahoma State kicker Ben Grogran became the latest to receive such a letter.
Even though Grogan prevented Snyder's team from completing a road upset of No. 21 Oklahoma State with a last-second field goal to give the Cowboys a 36-34 win, it didn't stop Snyder from congratulating the junior kicker from Arlington, Texas.
Snyder, 73, explained a couple of years ago on a Big 12 conference call why he takes the time to write the letters, always doing so with a K-State purple-ink pen.
"I do it after virtually every ballgame to young people who I thought played well against us or to coaches for their preparation," he said.
Grogan certainly appears to have appreciated it.
MORE NEWS: Want stories delivered to you? Sign up for our College Football newsletters.