Oklahoma fired up to play rival Texas after losing to TCU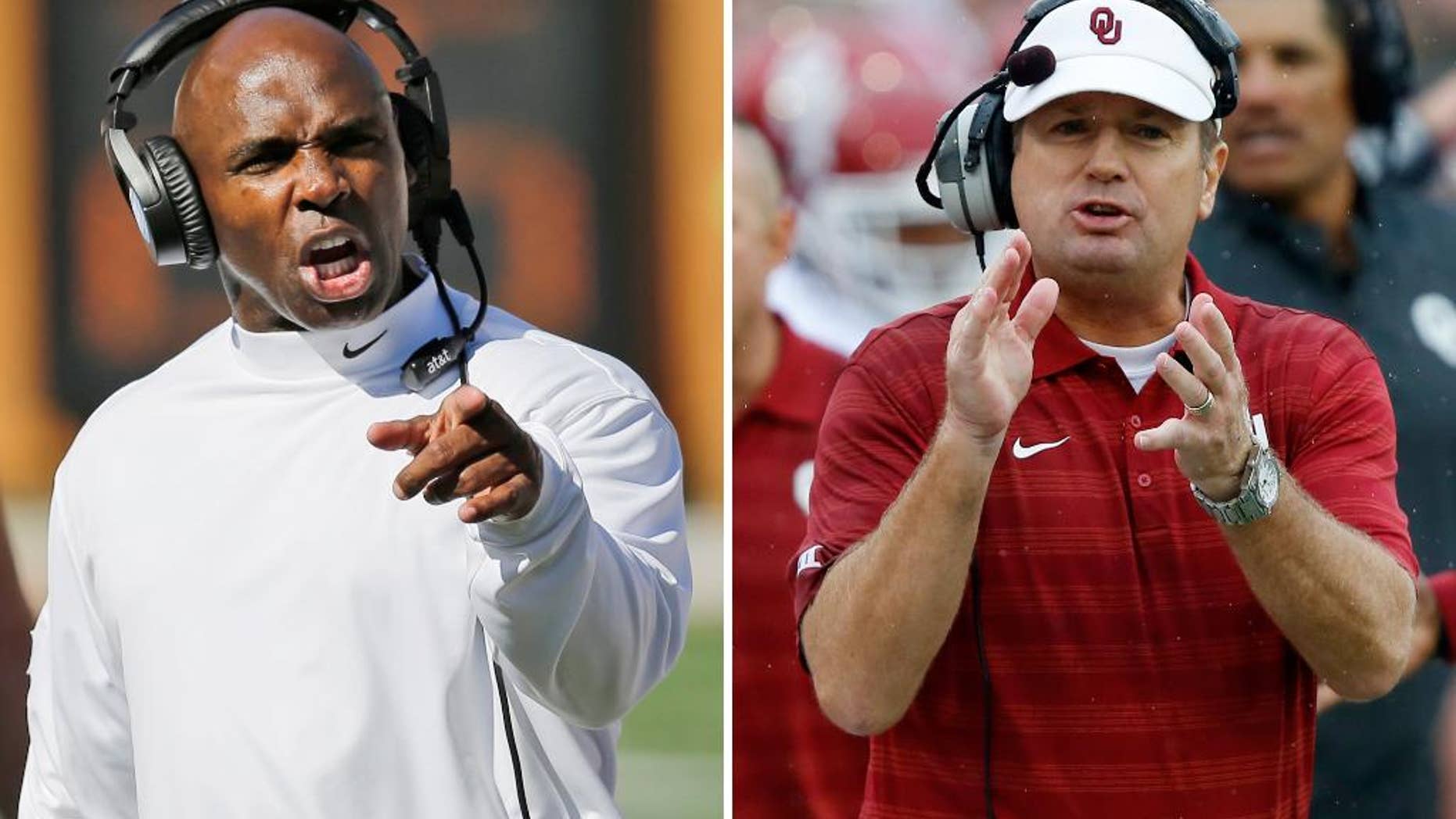 NORMAN, Okla. – Oklahoma coach Bob Stoops is selling the "Texas is just another opponent" line.
His players aren't buying it.
The Sooners' hated rival pops up on the schedule just in time to help them refocus after their first loss. Oklahoma fell at TCU last Saturday and dropped from No. 4 to No. 11 in the Top 25. A win Saturday against the Longhorns would put the Sooners (4-1) back on track to reach their goal of making the four-team playoff. It would also give them those all-important bragging rights.
"It's the reason why most people come to Oklahoma — for the OU-Texas game," Oklahoma defensive end Chuka Ndulue said. "My mom will be there, my sister, my dad, my best friends are going to be watching."
The vision of a 50-50 crowd in Dallas and the bus ride through the Texas State Fair to get to the Cotton Bowl help make the game special.
"Just when you walk out there and just see how split the stadium is — it's just one side crimson and one side is whatever their color is," Ndulue said. "Whenever you see that, it's great. It's always loud. I can't even hear the calls back there, you have to look for signals. It's a great atmosphere."
Even as players tried to regurgitate Stoops' message, they couldn't help but say playing Texas is a big deal.
"It means a lot," right tackle Daryl Williams said. "I think it's one of the best feelings to win in the Cotton Bowl. We treat them as a regular team, though, and we have to stay focused this week."
The Longhorns have stumbled to a 2-3 record this season, but they have Oklahoma's attention. Texas defeated a favored Oklahoma team last year, and that, plus last week's loss, make the Sooners extra hungry heading into Dallas.
"It's a big-time game," cornerback Julian Wilson said. "It's a smash-mouth football game. OU-Texas — everyone wants to know who is going to win. We still have a bad taste in our mouth from last year. We're going to go out there and execute our game plan on Saturday."
To make the right kind of memories, the Sooners will need to be more effective. Trevor Knight completed just 14 of 35 passes and threw two interceptions against TCU.
"At times he's got to be a little more patient to wait for something to break open, and then at times it's just the accuracy of the throws, so it's all of that," Stoops said.
Sterling Shepard caught seven passes for 215 yards and a touchdown, but just one other wide receiver, Durron Neal, had a catch, and he had just four. The other three completions went to tight end Blake Bell and running backs Samaje Perine and Alex Ross.
Overall, Stoops said the Sooners didn't play a smart, focused game against TCU, and he's more concerned about that than the rivalry.
"I believe a lot of it is easily correctable, and some of it's just discipline and fundamentals," he said. "I'm not going to detail it because then, you're calling out these young guys, and that's not the right thing to do. In the end, some of it is very fundamental in what we do, and for whatever reason, even guys with a lot of experience didn't do it very well, so we've got to do a better job coaching them and they've got to do a better job being mindful of their disciplines and what we're doing."
___
Follow Cliff Brunt on Twitter: www.twitter.com/CliffBruntAP .