Oilers beef up depth at forward, try to stave off skepticism as season nears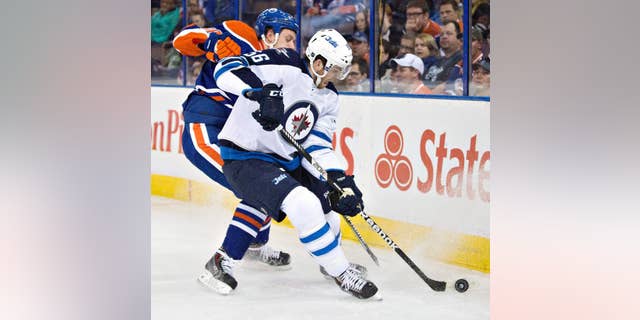 Igrid Kaveelaars knew.
The wife of Edmonton Oilers coach Dallas Eakins could see her husband was ready to return to work shortly after last season ended.
A 28th place finish will do that.
"A week to 10 days go by and my wife said, 'You're ready to go back to the rink now,'" Eakins said, "I am. You want to get back in there and get back in the fight."
Edmonton hasn't qualified for the playoffs since the 2005-06 season, but Eakins believes there a positives heading into the upcoming campaign.
"We've added size, we've added depth and we've added some people who can make plays. You start putting your lineup on the board and these are established NHL players that give you some comfort," Eakins said. "With the additions of those players and then with all of our other guys getting another year of experience, it's a step in the right direction."
Here are some things to keep in mind before Edmonton's season begins with game against Calgary on Oct. 9:
NOT STATISTICAL ANOMALIES: The debate that has ceaselessly raged between advocates for hockey analytics and those that disbelieve can be distilled to one fundamental question: Are these numbers fact or fiction? In the case of the Oilers, though, the numbers cannot be parsed into anything other than hard evidence of a woefully subpar squad. At the end of the 2013-14 season, the Oilers ranked last in goals-against average (3.26), and were tied for 22nd, 16th and 13th, respectively, in goals per game (2.43), power-play success rate (17 percent) and penalty-kill success rate (82.1 percent).
NET LOSS: The Oilers employed a revolving door in goal last season, as Richard Bachman, Ilya Bryzgalov, Devan Dubnyk, Viktor Fasth, Jason Labarbera and Ben Scrivens each stated their case to be Edmonton's top goaltender. In a combined 90 games with the Oilers, the sextet combined for 29-44-9 record and 2.85 goals-against average.
BOLSTERED BACK END: In an attempt to address the defensive decencies, Edmonton traded for--and subsequently signed to a two-year, $9 million deal-Nikita Nikitin, and signed free agents Mark Fayne (four years, $14.5 million) and Keith Aulie (one year, $800,000).
FORWARD REFORMATION: General manager Craig MacTavish added forward depth in the off-season by trading for Tampa Bay right wing Teddy Purcell, and signing New York Rangers left wing Benoit Pouliot. Purcell and Pouliot add size — both are 6-foot-3 — and some offensive production. Purcell recorded 42 points in 81 games, while Pouliot finished with 36 points in 80 games.
WHO'S ON SECOND?: In a division and conference in which quality depth down the middle is imperative in order to be successful, MacTavish has said second-line center is a concern for Edmonton. Third overall pick Leon Draisaitl, Mark Arcobello and Anton Lander competed for the job during training camp and preseason, but MacTavish noted the "position (has) the most question marks. The onus is going to be on (the) current group of players to show an ability to be competitive for a playoff position. The only is going to be on Arcobello, (Lander) and (Draisaitl) to show they're ready to play."