Oakland Raiders at Tampa Bay Buccaneers game preview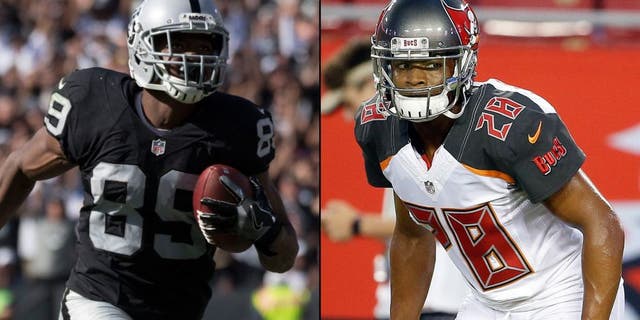 TV: CBS
Time: Sunday, 1 p.m.
TAMPA, Fla. (AP) -- Tampa Bay first-round draft pick Vernon Hargreaves III has a lasting memory of the first time he matched up against Oakland Raiders receiver Amari Cooper.
Nothing the young cornerback saw on film before the two met in college two years ago prepared him for what would be one of the most humbling days he's had on a football field.
"That's the first time I played against somebody that was better than me, that I felt like was significantly better than me, and he knows that," Hargreaves said, recalling Cooper catching 10 passes for 201 yards and three touchdowns to pace Alabama's 42-21 victory over Florida in 2014.
"For me, I was young. I was a sophomore, and at that point he was already playing like he was in the NFL," the rookie cornerback added. "So covering him, after the game I kind of sat down and thought: `Wow, he really got me better in a way,' if that makes sense. And he knows that."
Cooper, a junior at the time, went on to become the fourth pick in the 2015 NFL draft.
Hargreaves, selected 11th overall this year, gets another shot at one of the game's budding stars when the Bucs (3-3) host the Raiders (5-2) on Sunday.
"I've talked to him before ... and he knows we're going to get after it," Hargreaves said. "I'm excited to see him again."
Cooper leads the Raiders with 40 receptions for 614 yards, but has only gotten into the end zone once this season. Teammate Michael Crabtree has 39 catches for 461 yards and is tied with Bucs receiver Mike Evans for the league lead in TD receptions with six.
"It's going to be exciting to go against those guys and see where we really are," said Hargreaves, whose transition to the NFL has been helped by the presence of four-time Pro Bowl cornerback Brent Grimes, who signed with Tampa Bay as a free agent last spring.
Hargreaves gives Cooper credit for helping prepare him for the type of receivers he's facing in the pros.
"He was already an NFL player in college. So seeing the routes he ran, getting to cover him, when you play against good players you just naturally get better," the rookie said. "I don't why that is, how that works, I just know that's how life works, in all aspects. And I'm glad I got to see that early in my college career, somebody of his caliber, because it prepared me well."
Some other things to watch for when the Raiders visit the Bucs:
NOT SO SWEET HOME
The Raiders are aiming for their fifth straight road win. The Bucs are 0-2 at home, 3-15 since the start of the 2014 season, and at a loss to explain why. Oakland won 33-16 at Jacksonville last Sunday, then remained in Florida to prepare for Tampa Bay instead of returning to the West Coast. The extended trip also provides coach Jack Del Rio an opportunity to watch his son, Luke, play for the University of Florida this weekend.
FILLING IN
The Bucs have won two straight, beating Carolina and San Francisco on the road, to climb to .500 after a 1-3 start. RB Jacquizz Rodgers is one of the biggest reasons why , posting career highs rushing with 101 yards against the Panthers and 154 against the 49ers while standing in for the injured Doug Martin, out since Week 2 with a sore hamstring.
PROTECT THE PASSER
Ever since watching his brother David get sacked 76 times as a rookie in Houston in 2002, Raiders quarterback Derek Carr has known how important an offensive line can be. He's always had good protection in three years in the NFL, and this season might be the best. The Raiders have allowed a league-low seven sacks, led by left tackle Donald Penn, who was cut by Tampa Bay following the 2013 season.
"When you got guys that it means that much to them to do their job and it means that much to them that it makes them sick, not only to have a sack but for those guys to even touch you, you know you have the right person protecting you,"Carr said.
FAMOUS JAMEIS
Bucs QB Jameis Winston threw eight interceptions and lost two fumbles during Tampa Bay's 1-3 start. With Rodgers keying an effective rushing attack, the second-year pro has only turned over the ball once in the past two games.
BIG PLAY PUNTER
Raiders punter Marquette King has played a big role in the team's success this season. He leads the NFL with 19 punts of at least 50 yards, is second in gross average at 50.6 yards and is tied for second with 15 punts inside the 20. He delivers even when things don't go right, as evidenced by his 27-yard run for a first down after a low snap last week in Jacksonville. That run was longer than the any this season for top backs such as Frank Gore, Todd Gurley and Lamar Miller.