NY Mets' Bartolo Colon shines with experience and precision pitches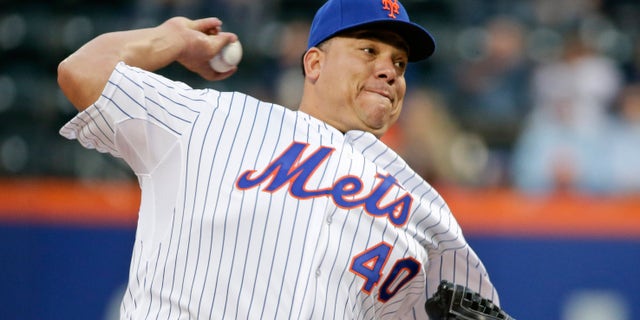 NEW YORK (AP) – Bartolo Colon settled in a chair and threw a rubber ball against his black glove. He repeated the motion several times, then leaned back and threw the ball in the air, mimicking a fielding drill.
That was his routine before one of his worst starts since he signed with the New York Mets in 2014. The right-hander gave up 11 hits, eight earned runs and — even more surprisingly — two walks in the May 20 game against the St. Louis Cardinals at Citi Field.
Before walking Kolten Wong in the fourth inning, Colon set a franchise record with 48 2-3 consecutive innings without a walk. The previous mark was 47 2-3, set by Bret Saberhagen in 1994.
"I'm going to have to start throwing more balls than strikes," deadpanned Colon after the game.
More balls? Not a chance.
Colon turns 42 on Sunday, and in his 18th year in the major leagues, the Dominican Republic native is showing pinpoint accuracy and an uncanny ability to get outs with one pitch: a high-80s fastball. As of Saturday, he was leading the majors in strikeout-to-walk ratio.
"He's been doing it for so long, I feel like he's pretty much got a scouting report on every hitter in the big leagues," said Orioles first baseman Chris Davis, who faced Colon in an interleague game on May 5 and struck out twice in four plate appearances. "He uses both sides of the plate and throws a lot of strikes."
At 5-feet-11 and a generous 285 pounds, Colon's at-bats are must-see comedy — a bat-flailing, helmet-flying routine that generates plenty of, ahem, highlights. He is in his third season in the National League — he had 39 at-bats with the Expos in 2002 — and is not likely to perfect the science of hitting.
But after 210 wins and more than 2,841 innings in the majors, he has perfected the art of pitching.
"I'm more of a pitcher now," he said. "I'm not the flamethrower I was before, but I have the ability to dominate and throw strikes."
His success has had its ups and a fair share of downs.
In 2010, a year he didn't pitch in the majors, Colon received a stem cell treatment in the Dominican Republic to repair damaged tissue in his throwing shoulder. The doctor in charge of the treatment, Joseph Purita, had used human growth hormone in other patients, although he rejects having used HGH on Colon.
Colon was suspended 50 games in 2012 while pitching for the Oakland A's for a positive testosterone test.
He refused to talk about those cases.
In a Mets rotation brimming with young talent like Matt Harvey and Jacob deGrom, the Colon success story doesn't go unnoticed.
"He does what needs to be done in a game, all the little details," said closer Jeurys Familia, who sits next to Colon in the clubhouse. "He controls the strike zone, throws up, down, always moving the ball."
Colon throws his fastball on 84.4 percent of his pitches, according to Fangraphs, the most in the majors. Jarred Cosart is second with 78.9 percent.
But he mixes two and four-seamers, and they all have movement.
"I feel like the older he's gotten, the more his ball has been moving," said Davis. "He commands not only both sides of the plate, but almost in any count."
Colon is a legend among young Dominican pitchers, who look up to him because of his durability and success. And the 2005 AL Cy Young winner owes part of his late-career surge to pitching with the national team.
Colon was thought to be done after a dismal 2009 season with the Chicago White Sox, when he finished with a 3-6 record and 4.19 ERA. In 2010, he joined the Dominican national team and started three games in the World Cup qualifying tournament in October in Puerto Rico. He threw a one-run complete game in a 7-1 win against Nicaragua.
"Our staff was very tired, and Bartolo asked for the ball and told me not to worry," recalled the manager of that Dominican team, Denio Gonzalez. "He pitched the nine innings and we won."
He then pitched in the Dominican winter league with the Cibao Eagles and caught the attention of Tony Pena, then manager of the Eagles and bench coach for the New York Yankees. Pena recommended the Yankees sign him, and Colon returned to the majors in 2011 with New York, posting an 8-10 record and 4.00 ERA.
He pitched two seasons with the A's before signing with the Mets.
"Even at his age, he's still like a youngster," Pena said. "He hasn't lost the joy for the game, and he thinks no one can stop him."