Nurmagomedov reveals exactly what he shouted at Dana White during his fight at UFC 205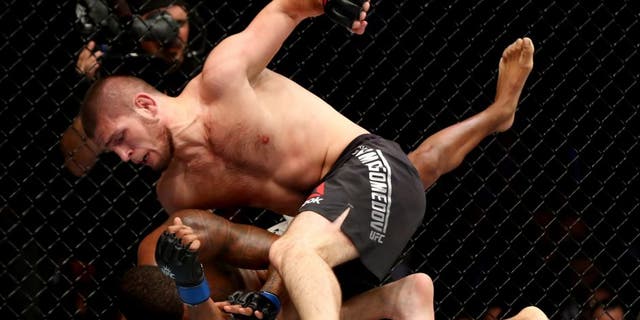 Khabib Nurmagomedov was really chatty during his UFC 205 fight as he exchanged words with his opponent Michael Johnson and UFC president Dana White in the middle of his third round submission victory.
Nurmagomedov dominated Johnson for the better part of all three rounds, but if that wasn't demoralizing enough, the Dagestani lightweight was also heard telling him to give up between punches to the face.
That's not all Nurmagomedov had to say because he was also shouting at his boss in the corner between rounds.
While his coaches were giving him instructions and getting him some water, Nurmagomedov stared down the UFC president sitting just a few feet away and started yelling at him during his one minute break.
"I tell him I have to fight for the title, you know this," Nurmagomedov told RT Sport this week. "Don't send me (expletive) contract, fake contract. After this fight you have to send me real contract. He said 'you have to finish this fight, in 30 seconds you have the second round'. I said don't worry, this fight is finished already."
The contracts Nurmagomedov referenced were a pair of bout agreements the UFC sent him for UFC 205 and UFC 206 for a matchup against Eddie Alvarez. The promotion ultimately decided to put Alvarez in a fight with Conor McGregor instead and Nurmagomedov was understandably upset after realizing that he may have been used as a pawn to make sure the other matchup came together.
Nurmagomedov certainly let his feelings be known in New York with White as a captive audience during his fight.
Following the end of the second round, Nurmagomedov went back to the corner and started shouting at White again, this time taking aim at McGregor almost as if he knew the Irishman was going to defeat Alvarez later that same night.
"After the second round, I said I'm going to smash your boy, be careful," Nurmagomedov said. "You have to say 'be careful' because I'm going to smash him. He said 'hey focus on your fight'.
"I enjoy this while I talk. I enjoy I'm fighting in the biggest arena in the world, Madison Square Garden, biggest show in the world, UFC 205 and a lot of people watching, I enjoyed. I talked with Michael Johnson, I talked with Dana White."
After the submission win, Nurmagomedov called McGregor a "chicken" and continued to take shots at him during every interview he conducted following the close of his bout against Johnson.
Of course, McGregor got the job done against Alvarez with a second round TKO and that only fired up Nurmagomedov even more as he's gunning for the first shot at the new lightweight champion.
McGregor is known for mentally breaking many of his opponents before they ever step into the cage with him, but Nurmagomedov promises the roles would be reversed if they fight. What Nurmagomedov dished out to Johnson at UFC 205 is only an appetizer for what he has planned for McGregor as the main course.
"Conor is a very good striking guy, everybody knows this, he has very good boxing, timing, counter puncher very good, but everybody knows I have top control, wrestling, pressure. Why I need to stay stand up with him?" Nurmagomedov said.
"I'm going to take him down, slap him, make him nervous, talk with him and make him give up."