Nuggets Rally to Hand Lakers First Loss, 118-112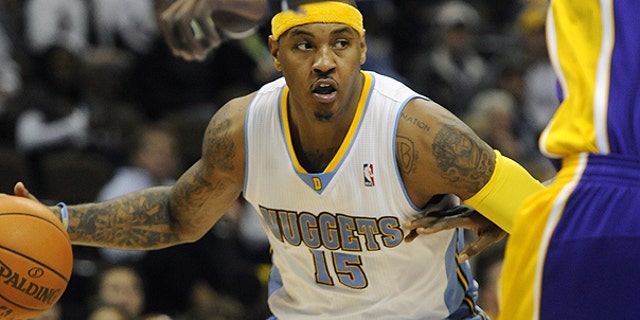 DENVER -- With the game tied and the ball in his hands behind the 3-point line, J.R. Smith hesitated for just a moment.
"I was thinking about not taking the shot because I missed the one before that and I didn't know how George was going to react," Smith said of his coach, George Karl. "When I saw how far Kobe (Bryant) was playing off, I just had to shoot."
Smith's gamble paid off. His tiebreaking 3-pointer with 4:12 left sparked an 11-0 run that led the Denver Nuggets to a 118-112 win over Los Angeles on Thursday night, handing the Lakers their first loss of the season.
"It was real big, especially against the Lakers," said Carmelo Anthony, who had 32 points and 13 rebounds.
Bryant scored a season-high 34 points and Pau Gasol had 17 points and 20 rebounds for the Lakers, who were trying to win their first nine games for the first time since the 1997-98 season.
Bryant came in needing 17 points to reach 26,000 for his career. He hit the milestone with a 13-foot jumper 49 seconds into the third quarter.
Early in the fourth it looked as though he would enjoy the milestone with a win. The Lakers led 95-85 with 11 minutes left when the Nuggets' small lineup, led by Ty Lawson, took over. The speedy point guard scored 11 points in a 16-0 run that gave them a 101-95 lead.
"I was just trying to attack," said Lawson, who finished with 17 points. "Their backcourt was a little stagnant and I wanted to speed up the game and negate their height."
It worked. Denver grabbed a 101-95 lead before the Lakers recovered. Shannon Brown's putback dunk and 3-pointer keyed an 8-0 spurt that gave the two-time defending NBA champions a 103-101 lead.
"It was one of those games where it was run after run after run," Lakers coach Phil Jackson said. "I was waiting for our run to catch theirs but we didn't get it."
The Nuggets had the final push. Anthony's layup tied it at 105, and after Gasol turned it over, Lawson pushed the ball upcourt looking for an opening.
"I was about to attack but everybody was late getting down," he said. "I saw J.R. at the top of the key, great shooter, and he knocked it down."
The Lakers missed their next four shots while Anthony hit two jumpers to extend the lead to seven.
"I thought Ty was great," Karl said. "When we went small our speed beat their size."
With injuries to Kenyon Martin and Chris Andersen, the Nuggets have been forced to play small this season. Against the taller Lakers they were able to overcome the size disadvantage.
"With a small lineup they open the floor and they're more of an attack mode," Gasol said. "They're very capable of making runs and getting hot, especially at home."
The Lakers led by five at halftime but opened a 14-point lead with a 13-2 surge to start the third quarter. Derek Fisher hit a 3-pointer and Bryant scored six quick points to spark the run.
The Nuggets made a run of their own and cut the lead to 79-74 on Al Harrington's 3-pointer. Bryant answered right back with two of his own to push the lead to 85-76 with 4:20 left in the third.
Smith's three-point play got Denver within 89-85 late in the third, but Anthony was called for a loose-ball foul and a technical on Los Angeles' next possession. Bryant hit the free throw and Brown nailed a 3-pointer to give the Lakers a 93-85 lead heading into the fourth.
Bryant struggled from the field in the first half, shooting 4 of 14 for 13 points. He was 11 for 32 for the game.
"We took what the defense gave us," Bryant said. "When they collapsed I made shots."
The teams traded leads throughout the first half. The Lakers finished the second quarter on a 9-4 run to take a 64-59 lead at the break.
Notes: Bryant is the youngest player (32 years, 80 days) in NBA history to reach 26,000 points, besting Wilt Chamberlain by 34 days. ... Lakers F Theo Ratliff sat out with tendinitis in his left knee.