Notre Dame nearly ready to unveil offensive changes (if any)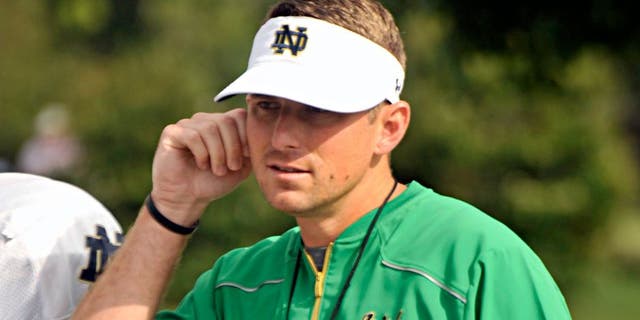 NEWYou can now listen to Fox News articles!
The time is nearly at hand for Notre Dame to unveil its 2015 offense, a unit that will have a new quarterback in Malik Zaire. On top of a new signal caller, will there be a new play caller, too?
That's something that Fighting Irish media have wondered since new offensive coordinator Mike Sanford was hire last winter.
NDInsider notes Brian Kelly has usually called the plays during his 20-plus years as a head coach, but Sanford is considered a rising star in the profession after successful stints at Stanford and most recently Boise State.
Also part of the equation is Mike Denbrock, a holdover on the staff who has the titles of assistant head coach and wide receivers coach.
Kelly told reporters in South Bend this week the trio will collaborate on play calling during games this season.
"I know you guys want more, (but) I'm just not going to give you much more than, you know, all three of us are collaborating," Kelly said. "How it comes out to the signaler, you know, we're all in unison as to how we want the game to unfold.
"So we are all going to be working off the same play sheet. We are going to all be working off the same openers. We are going to all be working off the same down-and-distance sheet, so whether it's coming out of Mike or Mike or Brian's lips, is really immaterial as far as I'm concerned. All I know is that we've got great collaboration between the three of us."
How much the Fighting Irish offense might change from last year to this remains to be seen. Kelly has spoken about his desire to run the ball better and to involve Zaire in that effort as the lefty is considered a bigger run threat than predecessor Everett Golson.
Kelly came to Notre Dame known for his ability to coach offense, but Sanford was brought in to offer a fresh perspective.
"I think it's just natural that sometimes you run a system of offense like I have for over 25 years, that you become accustomed to doing things a certain way," Kelly said. "When you get the question of why do you do it that way, then you have to answer the question honestly, that kind of turns it upside down a little bit. And so it's been good. It's been refreshing, and we've been able to look at everything that we do through what's the best way to get this done. And so I think that's been a good piece.
"And then Mike Denbrock has taken it and has made the adjustments and strengthened the system that is still our original system through that collaboration, and that's why it's been pretty exciting for me to see it happen."