Notre Dame coach Brian Kelly offers early impressions of Ohio State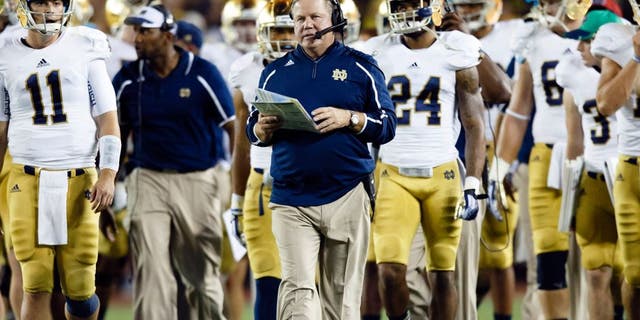 Notre Dame football coach Brian Kelly admitted he had not watched much film of Ohio State before being matched up with the Buckeyes in the Fiesta Bowl, but he still had an idea of what the team the Fighting Irish will be facing is all about.
"It's a well-coached (team), very good athletes on both sides of the ball, physical style of football," Kelly said on a teleconference Sunday.
He sees an opponent that very much values running the football both with running back Ezekiel Elliott and quarterback J.T. Barrett, whom he called "multitalented."
"So I think it starts with that physical dimension, physical (defensive) front. Joey Bosa coming off the edge, a pass rusher," Kelly continued. "Physical front, physical offensive line, running the football. That's what kind of stands out as the demeanor of an Ohio State football team, physical, and then just well-coached in all areas, including the special teams."
With the Buckeyes having shown great potential on offense, defense and special teams, the Fighting Irish will have to be able to match them everywhere.
"I think you have to understand that if one area is not strong, you're going to be compromised, and I think Ohio State will compromise you if you're not strong in all three phases,"
He was asked more than once about the Buckeyes being a possible measuring stick for his program but indicated the time that might be true has passed.
"We've played the No. 1 team in the country and we've played a very good Stanford team, and we've beaten three top-25 teams and played a couple others that are really good," Kelly said.
"Look, we have a ton of respect for Ohio State and the Big Ten, and we're always in the Big Ten. We've played Michigan, Michigan State (in the past), so we know Big Ten football, and we know what it's like. It's tough. It's physical. It's well-coached. But I don't think that there's like, you know, an added kind of résumé builder.
"It's Ohio State. They're the defending national champs. It's a darned good football team, but I think we know who we are, and we've been tested by some very, very good football teams. This will be another stern test by another very good football team."