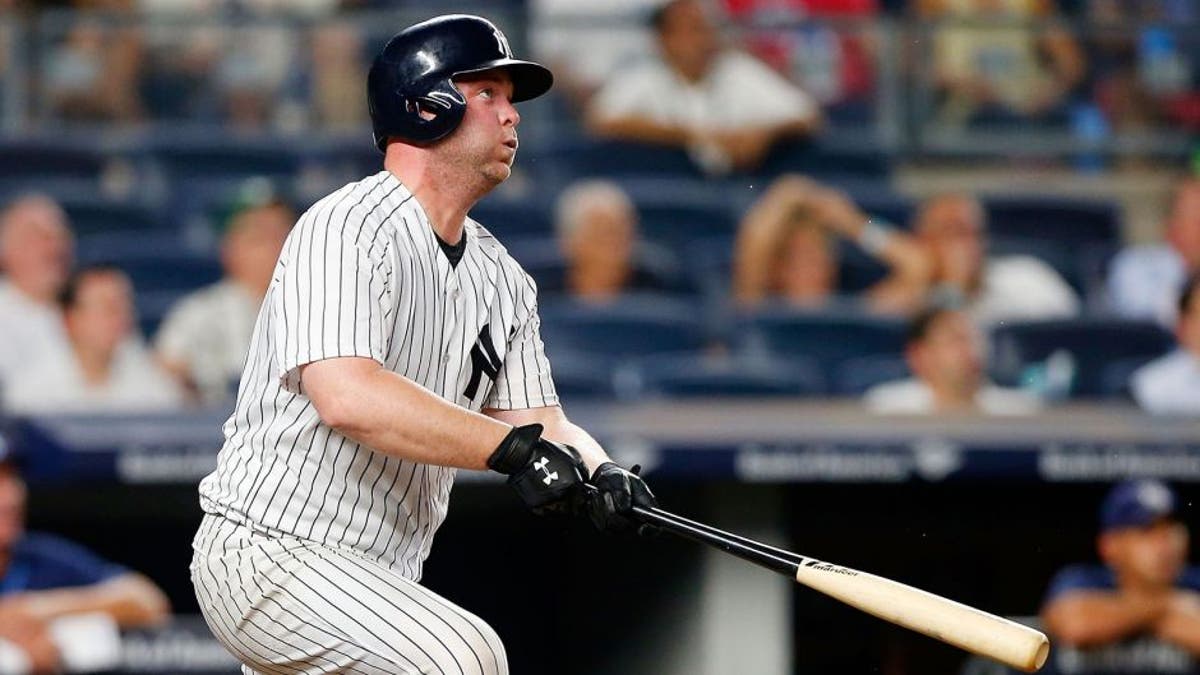 SCOTTSDALE, Az. -- There is a reason the Astros are talking to big-name free agents such as outfielder Carlos Beltran and first baseman Edwin Encarnacion and pursuing trades for players such as Yankees catcher Brian McCann, according to sources and published reports.
Houston wants to take advantage of a competitive window that will extend through at least 2018, after which left-hander Dallas Keuchel will be eligible for free agency. And they want to address not just holes on their roster, but also a void of leadership in their clubhouse, sources said.
The team's biggest need is probably a high-end starting pitcher, but the supply of top-of-the-rotation types is low and the competition for them is fierce. Adding offense is more realistic, and for the first time under general manager Jeff Luhnow the Astros are making no secret of their willingness to spend big.
Encarnacion, who will play next season at 34, is not necessarily the right fit -- the Astros already are stacked with right-handed hitters, and analytically oriented teams generally do not like older free agents on long-term deals. Houston likely would want him only on a shorter deal -- say, three years -- with big annual salaries.
Beltran, who is turning 40, is a switch-hitter who would fulfill the Astros' need for a left-handed bat, and require fewer years at lower dollars. But the Red Sox and Rangers remain interested in him, sources say.
McCann, who is turning 33, is a left-handed hitter who could platoon with Evan Gattis, get additional at-bats as a DH and benefit from playing mostly indoors at a ballpark with inviting dimensions in right field.
Free agent Dexter Fowler, a switch-hitter turning 31, would be an excellent fit in center, and he played for the Astros in 2014. One source, however, said a reunion was "very unlikely." Another option for Houston would be to trade for a left-handed hitting center-fielder such as the White Sox's Adam Eaton or Yankees' Brett Gardner.
WOULD McCANN GO?
Any team interested in McCann would need to deal with A) his full no-trade clause and B) the remaining money on his contract -- $34 million over the next two seasons, plus a $15 million club option.
The Astros, as an American League team, hold an advantage; McCann no longer wants to catch 125 to 130 games, sources say. His body began hurting less after Gary Sanchez replaced him as the Yankees' primary catcher on Aug. 5, and he told the team's coaches in September that he felt as good physically as he usually does at the start of the season.
The Nationals likely appeal less to McCann because they would need him to catch regularly. Besides, club officials are not inclined to take on such a sizable financial commitment, sources said; the Yankees value McCann as one of the top 10 offensive catchers in the game, and would want a significant return if they included cash in a trade.
The Braves, due to the presence of Tyler Flowers, would not need to lean as heavily on McCann at catcher, and could offer him a homecoming both to Atlanta and his original club. But the team also is evaluating other catchers who could be acquired with fewer obstacles, sources said.
McCann would not be certain to approve a trade to even the Astros; he enjoys playing for the Yankees. However, the Yanks could add a right-handed hitter who would DH against lefties, further reducing McCann's at-bats. The mere possibility of a diminished role could increase McCann's willingness to be traded.
TRADE OPTIONS ON THIRD-BASE MARKET
Only a handful of teams appear interested in adding a third baseman, and the number of trade candidates at that position also could impact the market for free agent Justin Turner.
Not that Turner should necessarily worry -- the Dodgers want to re-sign him, and the rival Giants could use him, too. Those teams, however, also can pursue other options.
The Padres are drawing interest in Yangervis Solarte, sources say. The White Sox are listening on Todd Frazier. And while the Rays insist privately that it will be difficult for them to even consider moving Evan Longoria, rival executives say they indeed are open to the idea; Longoria gains full no-trade protection in April 2018.
The Rays, though, might find it difficult to get the prospects they want for Longoria, who is 31 and owed $94 million over the next six seasons. Teams generally part with premium young talent only when they are assured of significant surplus value -- that is, performance above and beyond the contract. Longoria, from his age 31 to 36 seasons, probably would not offer much surplus value, if any.
Solarte, 29, is under club control for three more seasons, so the Padres are not necessarily eager to trade him; he missed six weeks in April and May with a strained right hamstring last season, but still batted .286 with 15 home runs and an .808 OPS.
Then again, the Padres are not in position to rule out any move, and Solarte is attractive to teams at both second and third. If the Pads could snare a good prospect or two from a team that does not want to pay Turner, they could possibly try one of their second-base candidates -- Ryan Schimpf, Carlos Asuaje and Cory Spangenberg -- at third.
As for the notion that teams will be reluctant to deal with the Pads after GM A.J. Preller was suspended 30 days for failing to disclose medical information in a trade with the Red Sox, consider the words of Marlins president of baseball operations Michael Hill, who was involved in another disputed trade with Preller:
"You want the best players possible. So, if they're in San Diego and you have the opportunity to improve your club or your roster, then full steam ahead," Hill told Dennis Lin of the San Diego Union Tribune. "In our game, it's difficult to make trades, so you don't want to eliminate anyone or a possible source where you can deal."
Clubs undoubtedly will exercise greater caution with Preller, at least until he proves worthy of greater trust. But Hill is correct: Teams are not going to stop dealing with the Padres.
AROUND THE HORN
*One rival executive's read on the White Sox: "I think they're in the exact same place they were in during the summer. They'll listen on everyone, but I think they'll focus on trying to move the short-term guys first and then listen on the big guys -- and ultimately not move the big guys."
The "short-term guys" are Frazier, second baseman Brett Lawrie and outfielder Melky Cabrera, all of whom are entering free-agent years, and closer David Robertson, who is signed through 2018.
The "big guys," of course, are left-handers Chris Sale and Jose Quintana.
*The Marlins, who were short one starting pitcher even before the tragic death of Jose Fernandez, recognize that it will be difficult to address their rotation needs in the thin free-agent and trade markets.
One possibility is to add a reliever to supplement a strong group that already includes right-hander David Phelps, Kyle Barraclough and A.J. Ramos, all of whom are capable of pitching multiple innings.
"We haven't ruled out anything," said Hill. "If we can't find an innings-eating, mid-rotation starter, we could look to beef up the bullpen."
*The lack of a collective-bargaining agreement is forcing high-revenue teams with luxury-tax concerns to move slower than usual, but the signings of a number of mid-level free agents could happen soon, sources say.
Commissioner Rob Manfred said Wednesday that he expects a new CBA before the current one expires one on Dec. 1. The existing rules will remain in place after that if no agreement is reached, but only for so long. The owners eventually could lock out the players or declare an impasse and implement a new economic system.
Neither of those outcomes is expected.