'Not fair': World cycling bronze medalist cries foul after transgender woman wins gold
The American bronze medalist who lost a world-championship cycling race to a transgender woman from Canada has criticized the results as unfair.
"First transgender woman world champion...ever," Rachel McKinnon, an assistant professor of philosophy at the College of Charleston in South Carolina, bragged Sunday in a tweet that set off a massive debate.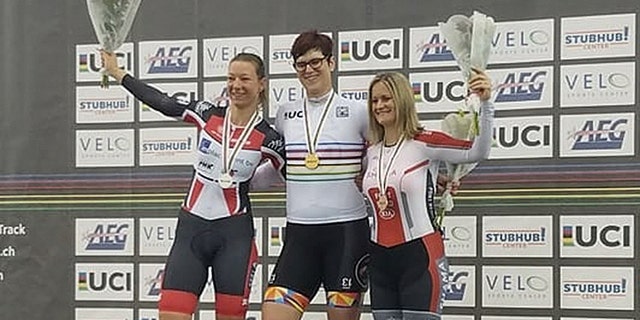 McKinnon gave a talk at the College of Charleston earlier this year asking: "Is it fair for transwomen athletes to compete in women's categories?"
While McKinnon argues it is, given the rules and regulations adopted by the International Olympic Committee (IOC) and the Court of Arbitration for Sport (CAS), the bronze medalist felt another way at the finish of the world championships.
"It's definitely NOT fair," Jennifer Wagner, the third-place finisher from Houston, said in response to a tweet from British conservative Katie Hopkins.
Hopkins tweeted an image of the three cyclists on the podium with this caption: "For clarity – this was the WOMENS world championships. I repeat. Women's. Congratulations to the brave faces of silver & bronze. The world is gripped by a febrile madness."
Carolien van Herrikhuyzen, the silver medalist representing the Netherlands and a friend of McKinnon, disagreed.
"No one is a transgender to steal anyone's medal," van Herrikhuyzen wrote. "We had an honest race under UCI rules. If you compete you accept the rules, otherwise, don't compete. I can only imagine what she had to go through in her life to be where she is now, how hard it is to fit in."
Wagner snapped back: "Just because it's a CURRENT UCI rule doesn't mean it['s] fair or right. And rules can be changed."
Four days later, after a firestorm of controversy, Wagner apologized to McKinnon, adding that she will work to get the rules changed offline to avoid more controversy.
"After having some time to reflect, I realize my twitter comments earlier this week unintentionally fanned the flames on a controversial situation, and that I regret," Wagner wrote. "I made the comments out of a feeling of frustration, but they weren't productive or positive."
Wagner added: "While I may not agree with the rules when I pin on a number I agree to race by them."
And she ended: "I apologize, @rachelvmckinnon , for not properly congratulating you on race day. I hope you accept it a few days late. Congratulations and enjoy your off-season. Thanks, everyone, for reading."
But McKinnon refused to accept her apology: "She merely apologizes for being caught saying it publicly. She wants to ban trans women from competing. They will fail…"
McKinnon labeled critics as "transphobic bigots" and pointed out that Wagner could face sanctions for allegedly violating the USA Cycling's policy against harassment for "creating hostile environments or disparaging remarks against people on the basis of gender identity."
As of 2015, IOC guidelines require biologically born men who identify as transgender to block certain amounts of natural testosterone, but no longer require gender reassignment surgery. McKinnon argues testing is against human rights because there is no way to measure if testosterone provides an advantage, instead pointing to civil rights.
"By catering to cisgender people's views, that furthers transgender people's oppression. When it comes to extending rights to a minority population, why would we ask the majority?" McKinnon told USA Today. "I bet a lot of white people were pissed off when we desegregated sports racially and allowed black people. But they had to deal with it."