Norvell will be on the other sideline this time around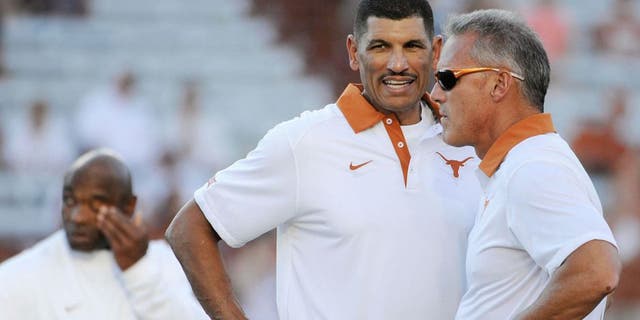 NEWYou can now listen to Fox News articles!
Jay Norvell is back on the sidelines for another Oklahoma-Texas game.
Only this time, Norvell will be wearing orange, not crimson and cream.
Fired last season as Oklahoma's offensive coordinator after seven years coaching the Sooners, Norvell is now the offensive coordinator at Texas.
"It's going to be weird seeing him in burnt orange," Oklahoma receiver Sterling Shepard said. "I don't think it fits him very well."
Meanwhile, Oklahoma quarterback Baker Mayfield said he has exchanged text messages with Norvell as has Oklahoma coach Bob Stoops.
"I'm always for him," Stoops said of his relationship with Norvell. "Even before we worked together. He was always a friend and will still remain that way."
One player who wasn't interested in reminiscing about Norvell was Oklahoma running back Samaje Perine.
"I didn't talk to him last year, so this year won't be a big deal."