No Pronger for opener, but Flyers unconcerned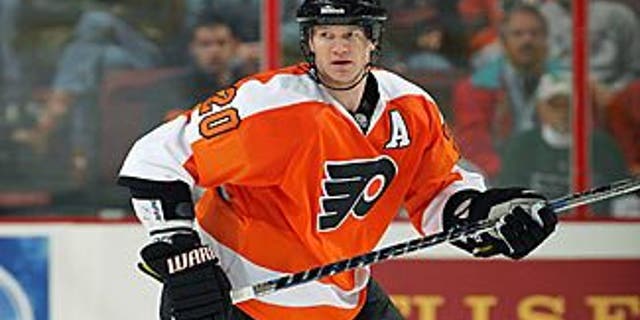 PHILADELPHIA -- The Philadelphia Flyers made official late Thursday morning what readily was apparent during their morning skate -- that All-Star defenseman Chris Pronger would not be playing Thursday when the team opens the first round of its playoff series against the Buffalo Sabres (7:30 p.m. ET, VERSUS, TSN).
Pronger hasn't played since March 8 due to surgery to repair a broken right hand he originally injured when he was hit by a puck during a Feb. 26 game against the New York Islanders.
When Pronger wasn't one of the seven defensemen the Flyers had on the ice for Thursday's morning skate, it was an obvious clue he would not be playing.
While media covering the series were curious about how the players felt, to them it was the same as every other recent day.
"We've been dealing with it for a while," Flyers captain Mike Richards said of Pronger's absence. "It's nothing new."
Since suffering a setback in his recovery last month, Pronger has been skating for about a week, but not with the team. He only handled pucks for the first time Wednesday, during a 40-minute session with fellow injured defenseman Oskars Bartulis and assistant coach Joe Mullen. Pronger was able to stickhandle, but made only light passes and shots.
"We're anxious to get him back, we'd like to have him back, but we're comfortable with the team we have without Chris," defenseman Sean O'Donnell said.
That comfort level comes from going 16-9-7 in the 32 games Pronger missed this season due to knee, foot and hand injuries.
"Nothing changes for us no matter who's in and out of the lineup," defenseman Braydon Coburn told NHL.com. "We try to play the same way no matter what."
Richards feeling fine -- Mike Richards raised eyebrows when he missed Wednesday's practice for what the team called a "maintenance day," but later the Flyers captain confirmed he had a bit of a cold and stayed home as a precaution.
He was on the ice Thursday, and reported that he felt just fine.
"Just little bit of a headache when I woke up (Wednesday) morning, so no need to come in," he said. "I don't need to practice, just have to focus more on the games and get to 100 percent.
"I'm feeling good, ready to play tonight. I'm excited."
Ready to go -- The last time the Flyers played a playoff game in their home arena, it left a sour taste in their mouth, as they had to watch the Chicago Blackhawks parade the Stanley Cup around their ice.
They've been counting the days waiting for another chance to start the playoffs.
"We've been looking forward to this for a while," Richards said. "Just watching last night on TV and driving to the rink this morning, on the radio, seeing everybody around the city with the Flyers orange on. It's an exciting time. And we get just as excited for it as the fans."
Some said watching the first night of playoff games got their juices flowing.
"Especially when you start Day 2 and you get to watch the games," O'Donnell said. "Day 1, I'm sure most of us tuned in at some point, saw the energy and realized how big every power play is, every penalty kill, every situation. There seems to be a little buzz here this morning and guys are excited to get started."
"You can tell that its spring time and the playoffs are around," Laviolette said. "So that's a good thing, I think. It's exciting. Teams that work hard to get to this point, they work hard to be one of the final 16 and get that right to play for today, so there's that excitement."
Seeds don't matter -- A year ago, the Flyers were the seventh seed, and upset the second-seeded New Jersey Devils in the first round. This year, they're the second seed preparing to play the seventh-seeded Buffalo Sabres.
However, Laviolette said just because one team is seeded higher, it doesn't mean there's any kind of gap in talent.
"I don't think seeds have anything to do with it," he said. "It's going to come down to a Buffalo Sabres team and a Philadelphia Flyers team and they'll go at it for a series here. The one who has some good energy, good execution, some bounces, some good goaltending, good specialty teams, that's probably the one that'll move on. I don't think it's really relevant, the seeds."
Contact Adam Kimelman at akimelman@nhl.com. Follow him on Twitter: @NHLAdamK