No. 5 Iowa holds off Minnesota for school's first 10-0 start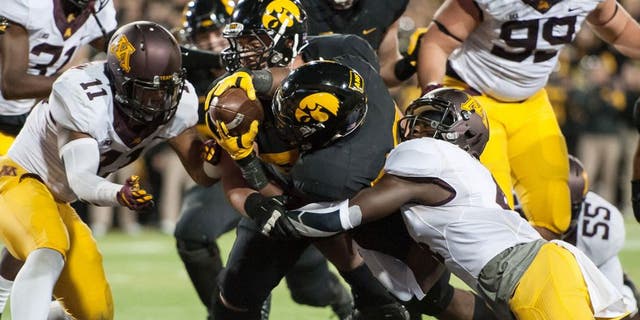 IOWA CITY, Iowa -- It seems like every week, Iowa finds someone else to help it stave off defeat.
This time it, LeShun Daniels gave the Hawkeyes just enough to keep their playoff hopes alive.
Daniels rushed for 195 yards and three touchdowns and No. 5 Iowa held off Minnesota 40-35 on Saturday night to start 10-0 for the first time in school history.
C.J. Beathard threw for 213 yards and ran for two touchdowns for the Hawkeyes (10-0, 6-0 Big Ten). Iowa can clinch the Big Ten West and a spot in the league title game with a win over Purdue next week.
"The only pressure any of us are feeling right now is to not let each other down," Iowa coach Kirk Ferentz said.
The Gophers made it interesting late. Running back Shannon Brooks threw a 42-yard TD pass to Drew Wolitarsky and ran one in from 3 yards out in the final 5:32.
But Daniels scored from 51 yards out with 2:01 left, and Minnesota's onside kick with 1:16 to go squirted out of bounds.
"In those situations, you want to be that ball carrier," Daniels said, adding that the coaches "put faith in me to go out there and finish that drive."
Mitch Leidner had 259 yards passing and a touchdown for Minnesota (4-6, 1-5), losers of four straight. The Gophers were playing for the first time since Tracy Claeys was named the permanent head coach Wednesday.
Minnesota is 0-3 under Claeys since Jerry Kill's retirement. But it lost to Michigan, Ohio State and Iowa by just 22 total points.
"It's the third game in a row where we've had a little bit of tough luck, but a tough atmosphere," Claeys said. "I thought our kids just kept battling, and that's all we can ask for."
Iowa last opened a season 9-0 six years ago. But quarterback Ricky Stanzi sprained his ankle and the Hawkeyes lost at home against Northwestern, ruining their national title hopes.
Iowa is still alive in 2015 because every time the Gophers got close, Daniels, Beathard and the Hawkeyes pushed them back.
Rodrick Williams' 1-yard run made it a six-point game late in the third quarter. But Beathard answered by finding Tevaun Smith for 29 yards on third down to set up his 1-yard TD plunge.
It gave Iowa a 33-21 lead -- marking the first time it had ever scored more than 30 points in four straight Big Ten games.
Brooks' TD pass caught the Hawkeyes defense flat-footed. Daniels made up for it though, slicing through the Minnesota front for the longest run of his career.
"It was just one of those games when both offenses operated at a high level," Ferentz said. "LeShun really came up big."
The Gophers then marched 75 yards in 45 seconds to score -- but Ryan Santoso shot his onside-kick attempt out of bounds.
Beathard had been battling an undisclosed hip/groin injury for a month. But he looked perfectly healthy on a 1-yard naked bootleg that put Iowa in front 14-7 early in the second half.
He then beat about half the defense on a 26-yard run that set up Daniels for a 2-yard touchdown run that put Iowa up 24-14 at the break.
The Hawkeyes nearly let that lead slip away.
But they scored just enough points to preserve their best start -- and more importantly, their playoff hopes.