No. 24 Florida stuns 23rd-ranked Tennessee with Hail Mary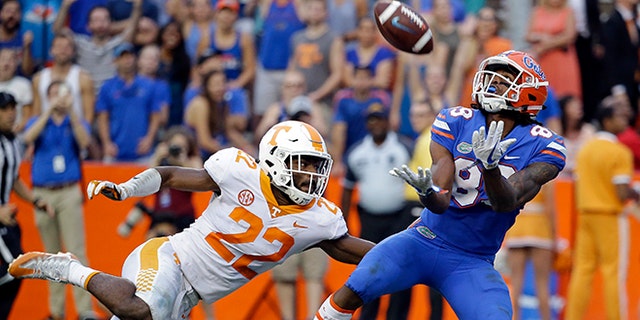 NEWYou can now listen to Fox News articles!
GAINESVILLE, Fla. – Tyrie Cleveland was one of the last players to leave Florida Field. He slapped hands, posed for pictures, and just before disappearing into the locker room tunnel, he turned and waved one final time.
He easily could have taken a bow.
Cleveland hauled in a 63-yard touchdown pass from Feleipe Franks as time expired, and No. 24 Florida stunned 23rd-ranked Tennessee 26-20 in a wild, wacky and sometimes unwatchable rivalry game Saturday.
Franks scrambled away from the rush on a first-and-10 play with 9 seconds remaining and found Cleveland behind safety Micah Abernathy for a Hail Mary that no one -- especially the Volunteers -- saw coming.
"Growing up, I always dreamed of making that game-winning touchdown," Cleveland said. "To make it come true is undescribable."
The final play capped a crazy fourth quarter in which the teams combined for 37 points and little, if any, defense.
"It was a really fun way to end a game," Franks said. "You grow up waiting for moments like that to happen in your life, and when it does happen, you don't have any words to describe it."
Here's one: Unpredictable.
After watching Florida's offense sputter all afternoon, there surely were arm-chair quarterbacks everywhere thinking the Gators (1-1, 1-0 Southeastern Conference) should take a knee and head to overtime. Instead, they burned the Volunteers (2-1, 0-1) with a deep pass for the second time in as many visits to Gainesville.
Two years ago, Will Grier found Antonio Callaway for a 63-yard touchdown on a fourth-and-12 play with 1:26 remaining that propelled Florida to a 28-27 victory.
This time, the play called "Train Right Open, Big Ben In" will go down in Florida lore as one of the most memorable in school history. It gave the Gators a 12th win in the last 13 years against Tennessee and allowed them to avoid the program's first 0-2 start since 1971.