No. 20 Creighton's run before half too much for struggling Butler to overcome in 88-60 loss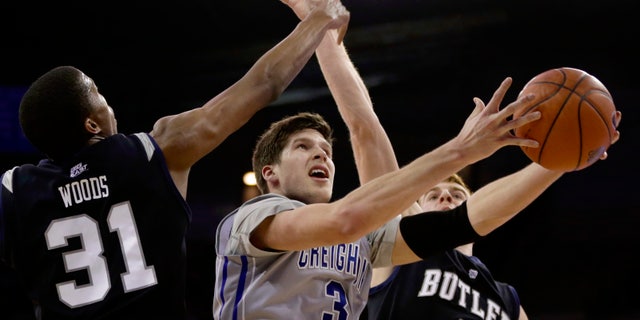 OMAHA, Neb. – Butler didn't have to worry about losing another close game. This time the Bulldogs got blown out.
Like most other teams, Butler had no answer for Doug McDermott in an 88-60 loss to fellow Big East newcomer Creighton on Tuesday night.
McDermott, a two-time All-America, scored 24 of his 28 points in the first half, and the 20th-ranked Bluejays broke open the game with a 32-6 run before halftime.
"It's the first game I looked out and saw our guys, and we just didn't have it," Butler coach Brandon Miller said. "We didn't have a hop in our step. We were slow to the ball, slow getting back on defense. When you play a basketball team as good as Creighton, they make you pay for it."
The Bulldogs have lost five straight conference games for the first time since 2003-04, when they were in the Horizon League. Three of their first four Big East losses, and four in all this season, had come in overtime. This one, however, was never close after the first few minutes.
"Coming into the season, you've got to realize we're going to have our ups and downs. This is a real down," said guard Kellen Dunham, who led the Bulldogs with 12 points. "We'd like to think we're going to come back to practice tomorrow or the next day and bring a lot of effort and get over this hump that has gotten in our way."
The Bluejays (15-2, 5-0) have won 10 straight games. All but one of their wins this season has been by double digits, and they have beaten their first five Big East opponents by an average of 17 points.
The Bluejays scored on 14 straight possessions at one point and closed the first half on the big run to lead 53-24. Butler (10-7, 0-5) never got closer than 25 points the rest of the way.
"The first half was as good as we can play," Creighton coach Greg McDermott said. "Our offensive efficiency and ball movement, our guys' willingness to move the ball and play for their teammates. I'm equally proud of our defense. I didn't see this coming. We were exceptional tonight."
Creighton, back in the Top 25 for the first time since late November, blew open the game after Alex Barlow's 3-pointer pulled the Bulldogs within 21-18. McDermott scored 13 points during the Bluejays' decisive spurt, which had the sellout crowd of 17,602 juiced.
"It's a wonderful place to play if you're Creighton," Dunham said. "It's an awful place to play if you're Butler."
Khyle Marshall added 11 points for Butler, and Kameron Woods had 10 rebounds.
The Bulldogs shot 28 percent in the first half after missing 21 of their last 24 shots. They finished at 35 percent and are shooting 34 percent in their last two games.
"We knew going into the Big East that each game was going to be difficult and we knew there'd be no gimme game," Miller said. "Every time you step on the floor you're playing a game where anybody can beat you. The reality of us, five games in, is we've played four really close basketball games. Our team has competed. We played extremely hard. The result hasn't been what we've wanted it to be in any of the five."
Woods, who did a good job keeping Oklahoma State star Marcus Smart under control in a two-point loss in November, was assigned to McDermott. He simply couldn't stop him.
McDermott worked over Woods inside, using creative moves to get to the hoop and showing soft touch with his right and left hands. He stepped out to make a couple of mid-range fade-away jumpers and popped out for 3-pointers.
McDermott, who finished 11 for 19 with three 3s, missed 5 of 7 shots in the second half and didn't play the last 8 minutes.
"We're clicking on all cylinders," he said. "Everything seems to be perfect out there."