No. 14 Wisconsin's stout rush defense braces for PSU bruising RB Zach Zwinak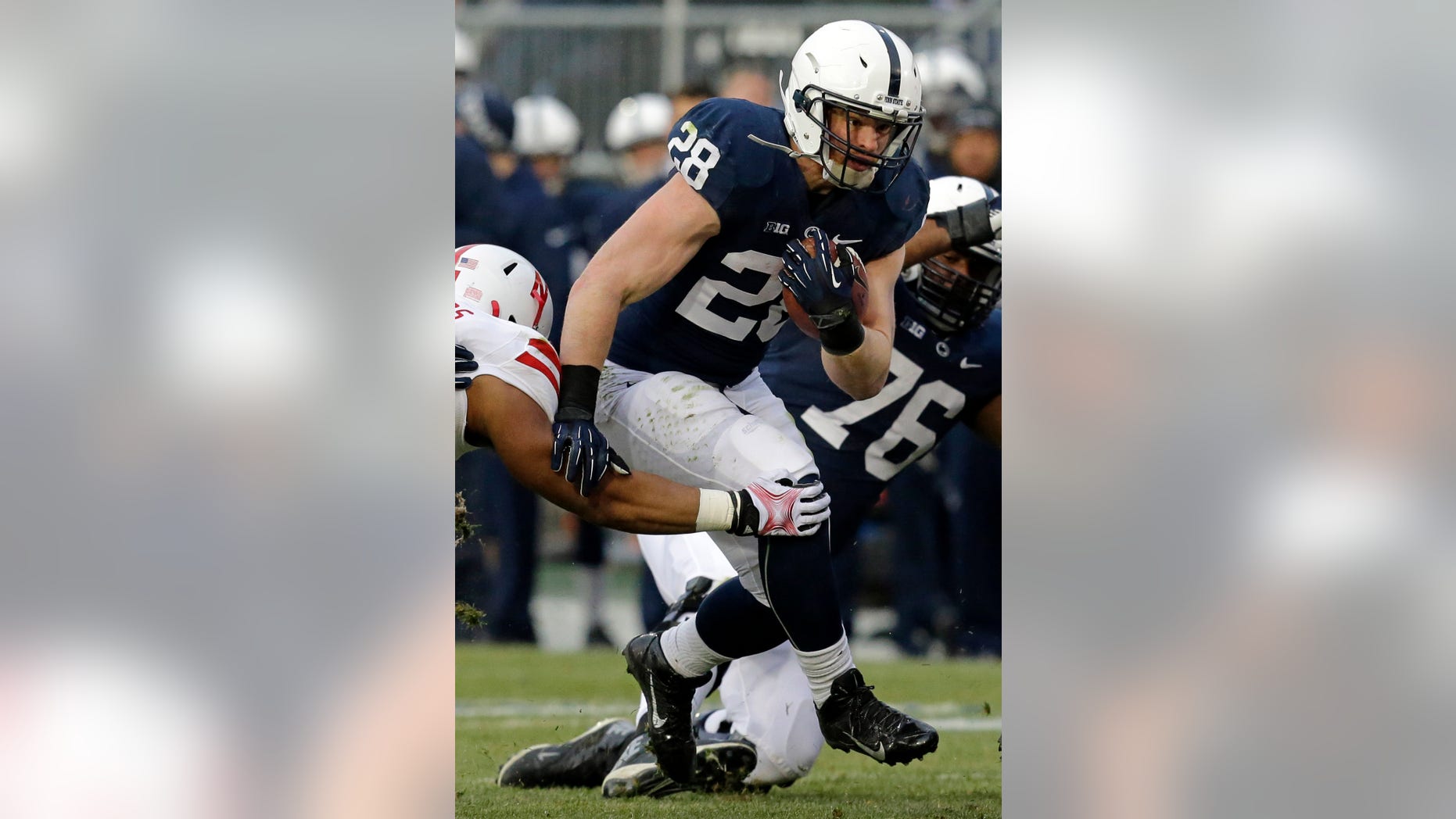 MADISON, Wis. – Chip, chip, chip.
No. 14 Wisconsin has seen firsthand the damage that bruising Penn State running back Zach Zwinak can inflict, chiseling away at a defense until it breaks.
Senior safety Dezmen Southward is determined not to let that happen again Saturday when the teams meet at Camp Randall Stadium. Zwinak rushed for 179 yards in the Nittany Lions' 24-21 overtime win last year.
"You know, being here, you usually don't get run on like that too often," Southward said.
Back on their home turf, the Badgers (9-2, 6-1 Big Ten) get a chance to change that in the regular-season finale. They come in boasting one of the top run defenses in the country (99.1 yards per game). Unlike last year, when he missed the matchup because of injury, star linebacker Chris Borland will be there to lead the charge against Zwinak.
Borland said it was difficult seeing Zwinak run roughshod over his teammates while he could only watch from the sideline.
"Maybe guys can take it as personal motivation," Borland said, "but as a group, just closing out the season the right way is enough motivation."
The 6-foot-1, 240-pound Zwinak has rushed for 12 touchdowns this year. The 5-foot-11, 246-pound Borland is one of the best linebackers in the business.
It's the Big Ten's version of a rock colliding with a hard place.
"He's more of a straight-line guy. One cut and go," Borland said. "He's physical, hard-nosed."
And especially productive of late with at least 149 yards and 26 carries in each of his last three games. Zwinak has had to battle through ball security issues, and he also had to recover from breaking his wrist in the spring game.
"So he came in and he started off a little bit slow, but he's had a good year for us," coach Bill O'Brien said.
Zwinak is 126 yards away from another 1,000-yard rushing season.
The problem for Penn State: Wisconsin can throttle an opponent's running game. No individual player has rushed for more than 100 on the Badgers since Nebraska quarterback Taylor Martinez had 140 in last season's Big Ten title game.
The Badgers have done it this year switching to a 3-4 defensive scheme brought in by Gary Andersen in his first year in Madison. Borland is a mainstay, though Andersen otherwise has built quality depth and added different looks on defense.
"Those kids have done a great job of making the reps count, not counting the reps. I say that a lot, but that's what's led us to be successful and given us the opportunity," Andersen said. "They've been able to work as a team, team of coaches and team of players, and be able to get that done."
___
Follow Genaro Armas at http://twitter.com/GArmasAP