No. 11 Oklahoma wary of TCU, recall Horned Frogs' win in 2005 opener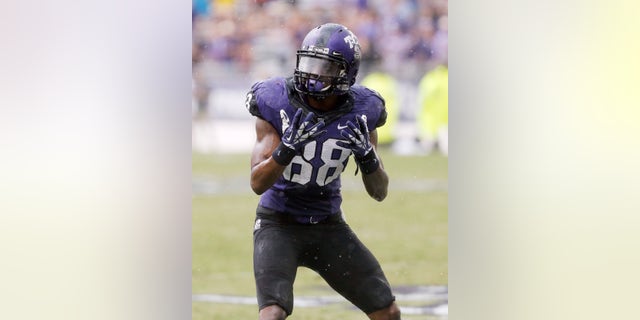 NORMAN, Okla. – It has only happened five times during Oklahoma coach Bob Stoops' 15-year tenure, but occasionally another team comes to town and beats the Sooners on their home field.
TCU was one of those teams, stunning the Sooners 17-10 in the 2005 season opener. Most of the players who will be on the field Saturday, when No. 11 Oklahoma (4-0, 1-0 Big 12) hosts TCU (2-2, 0-1), have few — if any — memories of that game. But for the Horned Frogs, it was a turning point in their program's history.
The win launched TCU to an 11-1 season and, one could argue, a national prominence that eventually led to the university being accepted into the Big 12. It's a touchstone that coach Gary Patterson references almost a decade later, TCU defensive end Jon Koontz said.
"It's just a big game in TCU history that he does go back and mentions from time to time when he talks about the tradition that we have," Koontz said.
Oklahoma, of course, has quite a bit of tradition itself, and the Sooners are coming off their biggest win in recent years, beating Notre Dame on the road 35-21 last Saturday. With that game in the rear-view mirror and the annual showdown in Dallas against Texas looming next Saturday, it could be tempting for the Sooners to overlook Texas Christian, but Stoops has a long memory and hasn't forgotten what happened in 2005.
Plus, the Sooners could essentially knock out of conference title contention a team many thought would be in the mix.
"We're only four games into it and we've got all Big 12 games remaining," Stoops said. "Even watching our game this past week, we've got to keep improving from it and I believe we can. The players can see some obvious errors in what we're doing and we can be a lot better in certain instances so that's what we'll keep pushing for."
Here are five things to watch when Oklahoma takes on TCU:
ANSWERING THE BELL: Junior Blake Bell has turned in strong performances in his first two starts as Oklahoma's quarterback, wins over Tulsa (51-20) and Notre Dame, passing for 645 yards and six touchdowns and completing 73.3 percent of his passes. But he'll be up against a TCU defense that the longest current streak among Football Bowl Subdivision teams of holding an opponent to less than 60 percent completion percentage. The Horned Frogs also have put pressure on opposing quarterbacks, recording 15 sacks in four games, fifth-best in the FBS.
SUCCESS AGAINST SUCCESSFUL TEAMS: TCU coach Gary Patterson has enjoyed plenty of success when it comes to beating ranked teams. During his 13 seasons with the Horned Frogs, Patterson is 14-11 against ranked opponents and a respectable 6-6 against teams ranked in the top 10. Including the 2005 win at Oklahoma, Patterson is 4-2 in his last six games against top-five teams. Stoops is 47-22 against ranked foes in his 15 seasons with the Sooners.
BIG PLAYS: Oklahoma's defense has been mostly solid this season — leading the Big 12 in pass defense and ranking second in total defense at 299.5 yards per game — after struggling down the stretch in 2012. But the Sooners have shown a tendency to give up an occasional big running play, something TCU no doubt will try to exploit. West Virginia scored its only touchdown in a 16-7 loss to the Sooners on a 75-yard first-quarter run by Dreamius Smith, while Notre Dame's George Atkinson scored on an 80-yard run early in the third quarter.
ROAD WARRIORS: Dating to its time in the Mountain West, TCU has won 16 of its last 18 road conference games, including a 4-2 mark since starting Big 12 play in 2012. The Horned Frogs fell at Oklahoma State last year and at Texas Tech this season. TCU is 24-6 in road and neutral-site games since 2009, a mark that ranks third in the FBS during that span, but the Horned Frogs haven't yet played at Oklahoma as a Big 12 member. The Sooners are 84-5 overall at home and 93-22 overall against conference foes under Stoops.
TURNOVER MARGIN: Which offense will blink first against ball-hawking defenses? TCU ranks sixth in the FBS in turnover margin at plus-6 and fifth in interceptions with nine, while Oklahoma is tied for 21st in turnover margin at plus-4. The Sooners have not committed a turnover in their last two games and are 35-2 under Stoops when not giving away the football. Last week, the Sooners took advantage of early interceptions by Corey Nelson and Frank Shannon to jump to a quick 14-0 lead at Notre Dame, while TCU safety Sam Carter had two interceptions (returning one 66 yards for a touchdown) and forced a fumble in a 48-17 win over SMU.