No. 1 overall pick Jared Goff to make NFL debut for Rams on Sunday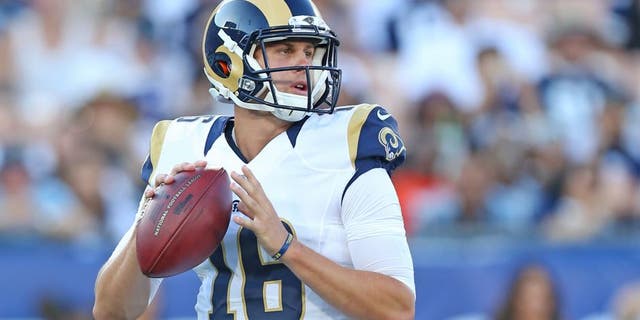 It took 10 long weeks on the sideline, but No. 1 overall pick Jared Goff will make his NFL debut on Sunday, according to ESPN's Chris Mortensen. FOX Sports NFL Insider Peter Schrager confirmed the report.
Goff has been Case Keenum's backup all season, with the exception of Week 1 when he was inactive. Jeff Fisher has tried to remain patient despite fans calling for Goff to start, but the coach obviously feels comfortable enough with his rookie quarterback to start him Sunday against a hot Dolphins.
Miami has 10 sacks in its last three games, and the Rams' offensive line is about as bad as they come in the NFL. That doesn't bode well for Goff, but at least it'll be in front of the home crowd.
The 4-5 Rams have lost four of their last five games and struggled mightily on offense. Goff may not be an immediate fix, but he's certainly their future at quarterback.