NNS: Stenhouse Keeps Championship; Smith Wins Race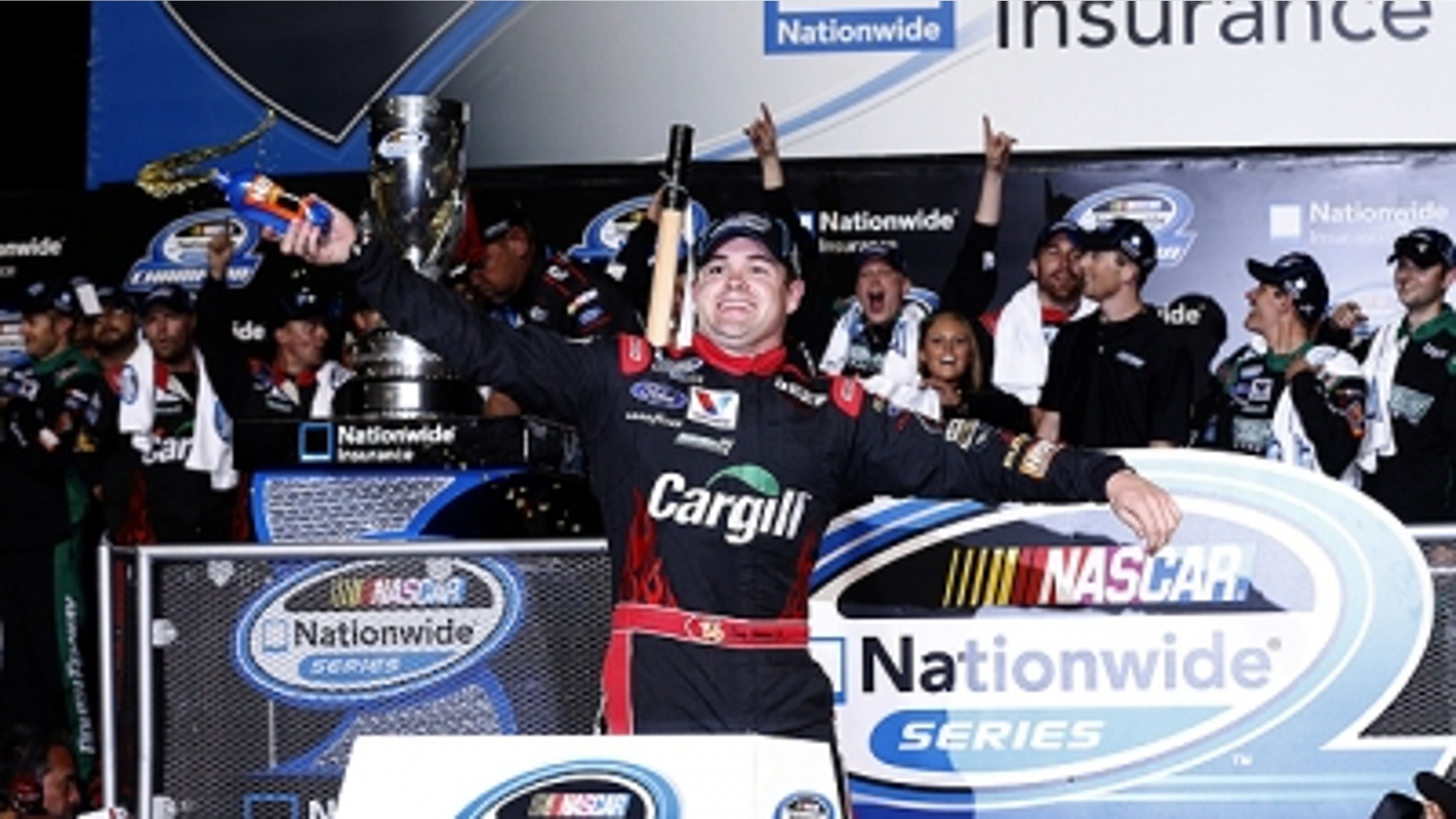 Ricky Stenhouse Jr. protected his point lead in some dangerous traffic over the final miles and won a second straight Nationwide Series championship Saturday night at Homestead-Miami Speedway as Regan Smith won the Ford EcoBoost 300.
Stenhouse rode in the top five most of the night, finished sixth and easily protected the point lead he brought into the race. He will be celebrated as Nationwide king for the second straight year Monday night in end-of-season festivities in Miami.
Stenhouse finished 23 points ahead of second-place Elliott Sadler and 24 in front of third-place Austin Dillon, who will be the series Rookie of the Year.
"It's really cool to be up here and drive these cars for Jack (team co-owner Jack Roush), Ford and Roush-Yates and for everybody who puts their heart and soul into this," said Stenhouse, who will move up to the Sprint Cup series for Roush Fenway Racing next season. "I'm just glad to be able to do it two years in a row."
Stenhouse fought a loose car in the second half of the race but said he wasn't concerned. "We've had loose race cars before," he said. "I think we went a little too far (in changing it). It got a little too tight to have a run at it."
Stenhouse was in the mix with the leaders in the closing laps, however, and was warned by spotter Mike Calinoff to avoid racing them. A crash could have cost the team dearly.
Smith emerged victorious in unusual circumstances. The race was his first in the series since 2007, and the win was his first Nationwide victory ever. Smith drove for JR Motorsports as a preview of 2013, when he will drive for team co-owner Dale Earnhardt Jr. full-time.
"That was a strong race car," Smith said. "I'm excited about driving for them next year. We're going to go out and challenge for a championship next year. It kind of sucks that we have to wait two months. I'd like to get started now.
"I don't want to look past the win, but I think there were still places we could have gotten faster tonight. There's still stuff to work on. The main thing is to go into the off-season and work as hard as we did this week."
Smith substituted for Earnhardt Jr. in two Sprint Cup races this year while he healed from a concussion. The decision to run Smith Saturday night came only two weeks ago.
"It feels really good for the whole company," Earnhardt Jr. said. "This is really a big lift. We made some changes to try to improve our company over the last several months. We've seen the speed and performance step up over the last several months. We're putting some pieces into place to formulate what our plan will be next year."
Following in the top five in the race were Kyle Busch, Brendan Gaughan, Sam Hornish Jr. and Dillon. Sadler was ninth.
Although Stenhouse won the drivers title, Joe Gibbs Racing won the owner championship with the No. 18 Toyota, driven by Joey Logano Saturday night and by a total of six drivers throughout the season. Logano and Denny Hamlin were the car's primary drivers.
Busch had the hot hand in the first half of Saturday night's race. He led the first 49 laps, then two more chunks of 17 and 23 laps. A loose condition hampered his progress in the second half.
Sadler, who entered the race in second in points behind Stenhouse, was forced to repit because of a loose lugnut near the halfway point and dropped to 19th place. He quickly charged back into the top five, however.
Dillon, the only other driver in the championship chase, also raced in the top five and asserted his power in the second half of the race, taking the lead and building a cushion.
A debris caution wiped out Dillon's lead with 27 laps to go. The three point leaders pitted, and Dillon returned to the track first. Sadler came out third, and Stenhouse took fifth.
Smith quickly sprinted to the lead at the green flag, with Dillon second, Sadler third, Busch fourth and Stenhouse fifth.
The field was bunched again, however, when Johanna Long was hit by Logano and slammed into the inside wall in turn two, causing the night's fifth caution.
The next restart came with 15 laps to go. Smith kept the lead, Dillon fell back to fifth, and Busch charged up to challenge Smith.
Following Stenhouse, Sadler and Dillon in the top five in the final series points were Sam Hornish Jr. and Michael Annett. Danica Patrick finished 10th, becoming the first woman to finish in the top 10 in a major NASCAR series.
Sadler lost a tough battle for the championship for the second straight year.
"We raced as hard as we could," he said. "We came up short. Second is not what we wanted, but we got to hang our hat on some wins and poles, and we ran good all year long. I apologize again for coming up short, but we did the best we could."
Mike Hembree is NASCAR Editor for SPEED.com and has been covering motorsports for 30 years. He is a six-time winner of the National Motorsports Press Association Writer of the Year Award.