NNS: Kyle Busch Scores Again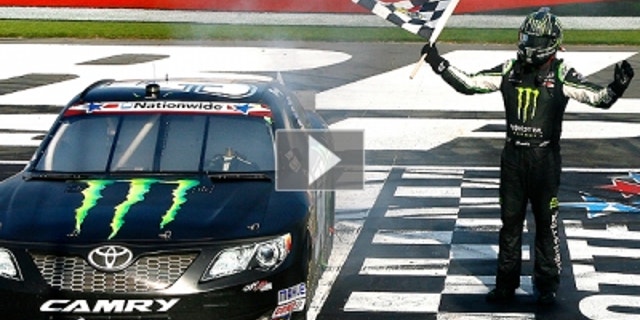 RESULTS
History 300
No real news here. Kyle Busch was in a Nationwide race. He won it.
For the sixth time in nine Nationwide races appearances this season, Busch emerged victorious Saturday in the History 300 at Charlotte Motor Speedway, leading 186 of the 200 laps.
Although late-race cautions produced a mix of strategies, Busch made it no contest.
The race was slowed on lap 165 – 35 laps from the finish – after a vicious crash by Travis Pastrana, who lost control of his Ford on the backstretch and slammed hard into the inside wall. Also involved in the accident were John Wes Townley and Joe Nemechek.
The caution that followed the accident offered the opportunity for a mix of pit strategies. The top eight drivers did not pit for tires, preferring to preserve track position.
Busch was in first for the restart at lap 173. Kasey Kahne stayed close but couldn't challenge Busch as full-speed racing resumed.
Reed Sorensen slid a few laps later, bringing out another caution.
On the next restart, Busch started in front of Kasey Kahne, Parker Kligerman and Kevin Harvick. Harvick picked up four tires on his final pit stop and was in position to challenge for the lead but couldn't move forward.
The last green flag flew with 13 laps to go. Although Kahne made a brief run at the lead from second place, he couldn't move past Busch, who won a few laps later.
Kahne finished second, followed by Joey Logano, Kyle Larson and Harvick.
"I got to the outside and just didn't get the run," Kahne said. "It was over at that point. It's tough to beat Kyle Busch in this series – in all series, I guess. But it was still a good day for us."
Mike Hembree is NASCAR Editor for SPEED.com and has been covering motorsports for 31 years. He is a six-time winner of the National Motorsports Press Association Writer of the Year Award.