NLCS: St. Louis Cardinals Rain on San Francisco Giants' Parade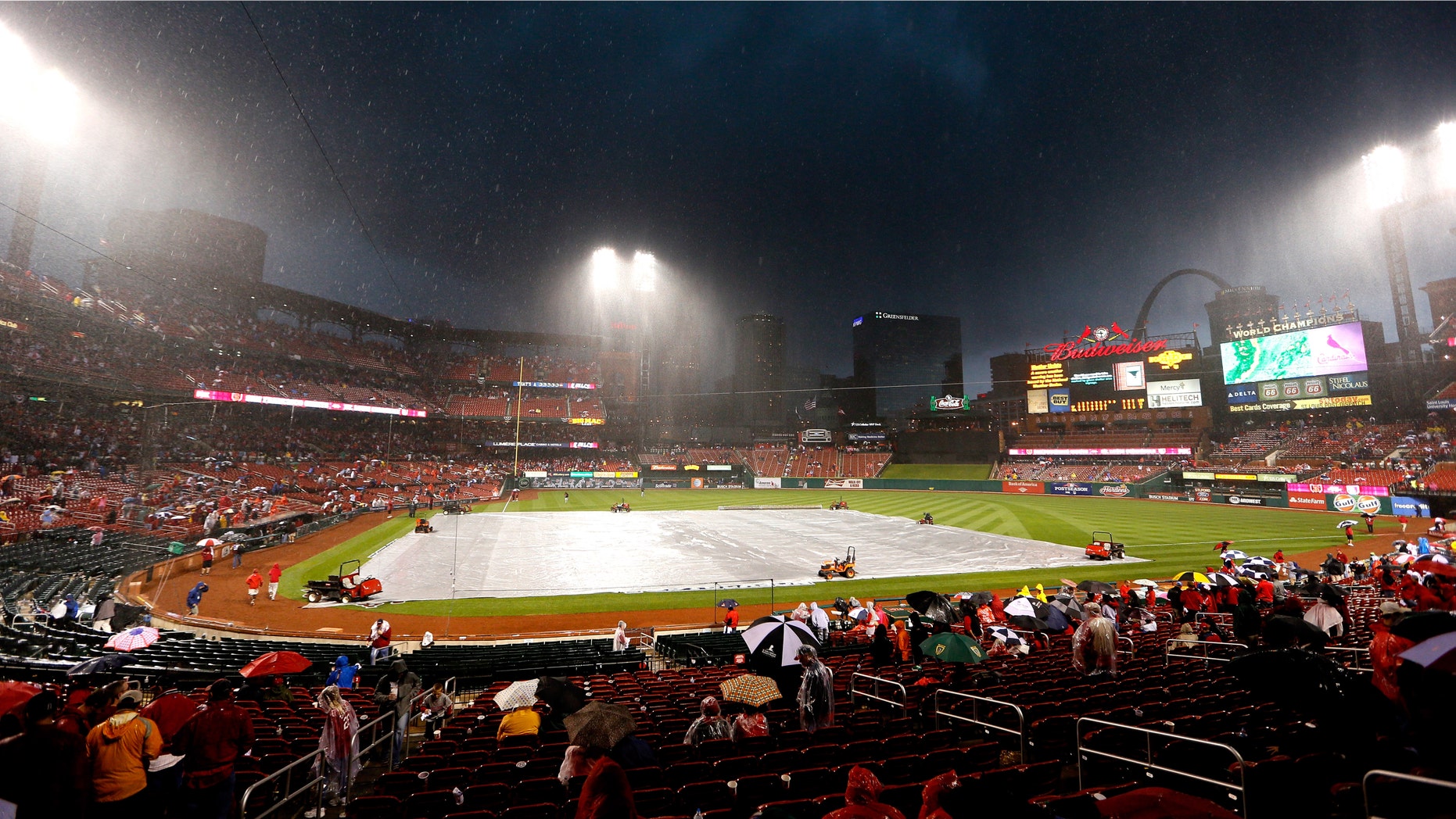 ST. LOUIS – Ominous clouds threw a curveball into Wednesday night's MLB playoff games.
However the St. Louis Cardinals did not let a 3½-hour rain delay distract them from maintaining their 3-1 lead over the San Francisco Giants as the team took the lead in the NLCS.
The San Francisco Giants went six up and six down against the Cardinals' hard-throwing closer, Jason Motte, following the extended break in 7th inning that lasted longer than the entire game.
And not crumbling under the unusual circumstances, Motte delivered the first two-inning save of his career under October pressure.
"I've never had a situation where I've known that far ahead of time," said Motte, who has saved both of St. Louis' victories in the NLCS and has three saves in the postseason. "You know, you're usually watching the game and you prepare yourself that way.
"I went to the bullpen a little early and got my arm loose and I was able to get the job done."
The Cardinals snapped the Giants' five-game road winning streak in the postseason, three of them this year, putting the defending World Series champions up 2-1 in the series against the 2010 World Series titlists.
Bochy waited until after Game 3 to announce Tim Lincecum as his starter for Game 4 against Adam Wainwright, and also said Barry Zito would start ahead of struggling lefty Madison Bumgarner in Game 5 against Lance Lynn.
Despite the victory, the Cardinals suffered a huge blow in the first inning when star offensive player Carlos Beltrán was forced to leave the game with a strained left knee.
Manager Mike Matheny said Beltrán will be day to day as he's had issues with the knee throughout the season, despite playing in 151 games, his most since 2008, and having 619 at-bats.
Beltrán leads all players with eight extra-base hits in the 2012 playoffs and is a career .375 hitter in the postseason, the highest ever among players with a minimum of 100 at-bats.
Umpires called for the tarpaulin right after the Cardinals made it 3-1 on a run-scoring single by Shane Robinson and Cain was lifted.
The storm had been widely anticipated. Some forecasts called for a 70 percent chance of rain. Both managers fielded questions Tuesday and Wednesday about whether the probability of precipitation would affect their selection of the starting pitcher.
It was the third game delayed by rain this postseason and a fourth, Game 4 of the Yankees-Tigers ALCS, was postponed later Wednesday night. Two games between the Yankees and Orioles in Baltimore began late because of inclement weather.
Based on reporting by the Associated Press.
Follow us on twitter.com/foxnewslatino
Like us at facebook.com/foxnewslatino