Niger rower crawls home to roaring Olympic crowd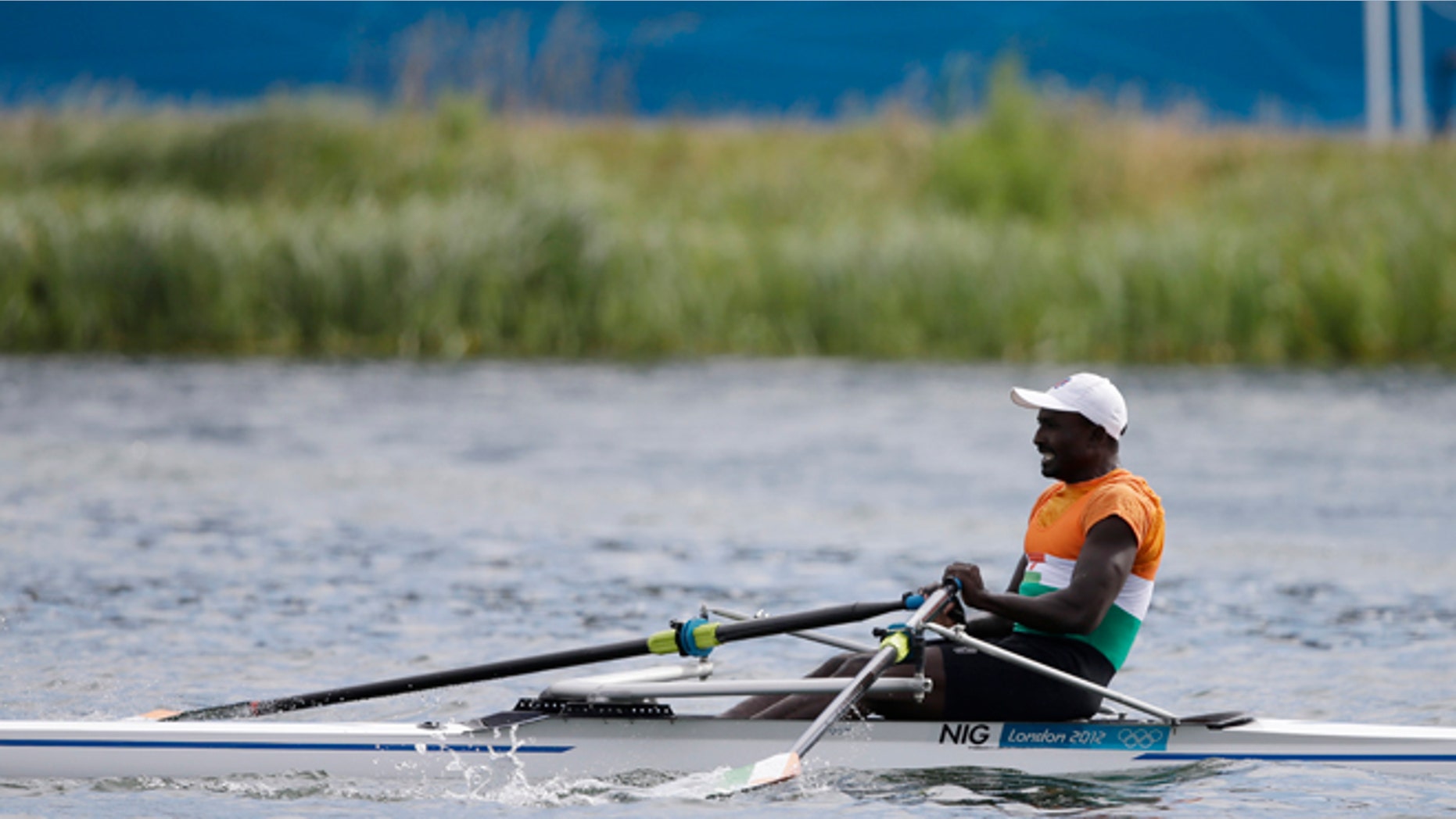 WINDSOR, England – Spectators jumped to their feet, roaring him to the line. "You can do it," screamed the announcer.
After hearing the finishing hooter, he slumped over in his boat, totally spent. After a few seconds, he lifted his head and saluted the crowd, with an ear-to-ear grin.
No, this wasn't a British rower in a race for Olympic gold in front of his home fans. This was Hamadou Djibo Issaka, crawling to the finish in last place in a single sculls repechage.
Djibo Issaka is 35 years old and from Niger, in West Africa. He shouldn't really be at the Olympics -- he learned how to row only three months ago and has a technique that can best be described as ropey.
But there he was, under threatening skies, sloshing about in Dorney Lake in an orange and green shirt, pushing through the pain barrier like any other Olympic rower. He finished nearly 1 minute 40 seconds behind the race winner, but received one of the biggest rounds of applause of the day.
"It went well," he said in French to The Associated Press with a beaming smile. "I passed the finish line, it was great."
Move over, Eric the Eel. We now have Hamadou, "The Sculling Sloth."
Djibo Issaka was the beneficiary of a wild card to the regatta from the IOC Tripartite Commission, which allows each National Olympic Committee up to five athletes to participate at a summer games.
He is Niger's national rowing champion, which speaks volumes given his limited experience.
"I have no technique," he says, "I only have strength."
Prior to May, he'd been nowhere near a single scull. He probably wouldn't have known what one was. He was a swimmer and had only ever seen rowing on TV.
That all changed when he was sent to Egypt by the Niger Swimming Federation to try rowing. He then went for more training at the International Rowing Development Centre in Tunisia for two months.
With a spot in the Olympics now secured, his final low-key preparations took place in the Belgian town of Hazewinkel.
This week, the surroundings have been very different. The top leaders of sport in Niger were in the stands as he finished last in his heat on Saturday, clocking 8:25.56. He was 14 seconds slower a day later.
"I tried," he said. "I tried to make a good time."
His four rivals were stretching off in the warmup lake by the time Djibo Issaka approached the finish line. Maybe it was tiredness, but his technique was all over the place. He never came close to grinding to a stop but his head rolled as he sought a last drop of energy in the final 100 meters. He grimaced, he squirmed but the line came to his rescue.
His boat stopped there and then. But the applause didn't.
"There were so many people encouraging me," he said, turning round to the grandstand as the competition continued behind him. "I was happy to finish under their applause. Really, I'm happy for the whole country."
Not everyone was happy to see Djibo Issaka at the Olympics, however.
Steve Redgrave, a five-time Olympic rowing gold medalist and one of Britain's greatest Olympians ever, was one of the party poopers.
"There are better scullers from different countries who are not allowed to compete because of the different countries you've got," he was quoted as saying Saturday, in reference to the Nigerien.
"It's a fair comment if you don't have the background to how these rowers get those positions and how big it is for a country to be at Olympic Games," said Matt Smith, general secretary of world governing body FISA.
Smith said he had written to Redgrave on Sunday, explaining the IOC program. Djibo Issaka hadn't actually taken the place of another sculler, he had simply been added to the program.
"We are so proud," Smith said. "It's given us a new country, and a big boost. As far as rowing is concerned it's fantastic. And we are really happy about the response from the spectators."
For Djibo Issaka, his gold-medal hopes are gone for another four years but that doesn't mean the end of his Olympic Games. He'll be back at Dorney Lake on Tuesday for the races to determine the lesser positions. He doesn't return to Niger until Aug. 14.
He says the Olympics have opened his eyes to another world.
On Friday, instead of being tucked up in bed before his early-morning heat the next day, he was inside the Olympic Stadium attending the opening ceremony. He had been advised not to but he couldn't resist.
"It was magnificent," he said. "I had never seen fireworks before in my life!"
He certainly didn't produce any fireworks in Sunday's race. But it will probably go down as one of the moments of the London Games.
"I'm preparing for the next competition," he said. "I'm happy with how things have gone."