Niemi, Stars shut out Penguins in season opener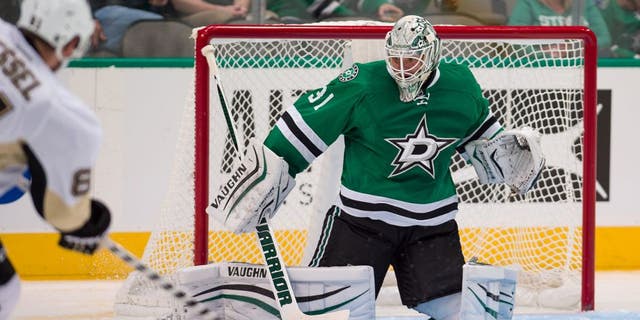 NEWYou can now listen to Fox News articles!
DALLAS (AP) -- Antti Niemi couldn't remember whether he'd ever had two assists in a game before. Matthias Janmark didn't have anything to remember before he scored his first NHL goal.
And Ales Hemsky had good feelings in the first game after a season he'd rather forget.
Niemi stopped 37 shots in his Dallas debut for his 33rd career shutout and had two assists in the first periods, and Janmark and Hemsky scored to lead the Stars to a 3-0 victory over the Pittsburgh Penguins on Thursday night.
"We got the lead early (here), which is not always the easiest place to play," Niemi said, "especially against a team like that.
"I just tried to have fun out there, and usually it's fun when you give me too many goals."
Hemsky scored on a power play, and assisted when Janmark scored on his first shot on his first shift in an NHL game just 1:39 into the first period.
"He deserved it," Stars coach Lindy Ruff said. "He's had a heck of a camp. I made the move to put him back to center, let him play his natural position."
The Stars acquired Niemi and Janmark in trades earlier this year. Hemsky joined the team as a free agent last season, but had only 11 goals and 21 assists in 76 games.
"It took me a while last year to get into it and align the system and everything," Hemsky said. "I feel much (more) comfortable this year."
Dallas scored on two of five power plays. Jamie Benn, the NHL's leading scorer last season, had a power-play goal in the third period.
Niemi improved his career record against the Penguins to 5-1-1. He withstood a flurry in the final minute after Pittsburgh pulled goalie Marc-Andre Fleury for an extra skater.
"I thought (Niemi) looked quick, nothing went through him," Ruff said, "and then he made a couple really good saves right at the end of the game to put the icing on the cake."
The Stars held Penguins captain Sidney Crosby without a shot on goal.
"We got to find ways to score goals whether it's the power play chipping in or finding ways in front," Crosby said. "It wasn't lack of chances."
Fleury finished with 21 saves.
The Stars are 4-0-1 in their last five home games against Pittsburgh, and have won three in a row overall. They scored first when Janmark skated down the slot, took a pass from Hemsky and shot between Fleury's legs.
"I couldn't have had a better start," Janmark said. "My first game, and to get that start, I never dreamed of that."
The Penguins dominated the latter half of the period, but couldn't score. Niemi's best stop was a reaching glove save of Rob Scuderi's drive from the blue line with less than 3 minutes remaining.
Hemsky scored at 5:42 of the second on Dallas' first power play. His shot from the top of the right faceoff circle went in over Fleury's right shoulder.
Seven seconds into the Stars' fourth power play of the third period, Benn tipped in Jason Spezza's shot from the right point.
NOTES: Dallas acquired Janmark as part of a March trade that sent Erik Cole to Detroit. The rookie had been playing in the Swedish Hockey League. ... San Jose traded Niemi's rights to the Stars in June for a seventh-round draft pick. Also making their Dallas debuts were LW Patrick Sharp and D Johnny Oduya, teammates with Chicago's Stanley Cup champions last season. ... In his first game for the Penguins, Phil Kessel played in his 447th straight game. ... Pittsburgh was 0 for 3 on the power play.