Niemi gets back in net, looks for better result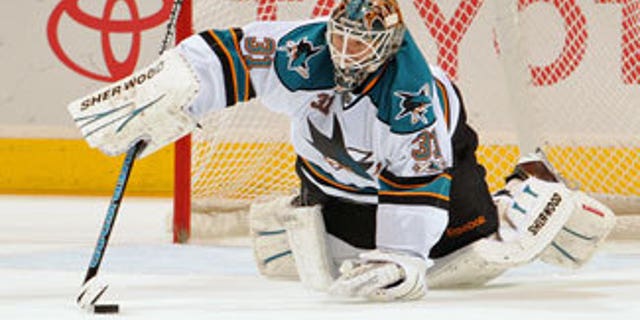 LOS ANGELES -- Antti Niemi will be back in goal Thursday night when the San Jose Sharks attempt to grab a 3-1 lead against the Los Angeles Kings in Game 4 of the Western Conference quarterfinal series.
Niemi confirmed as much following the team's morning skate at the Staples Center.
"Yeah, sure," he said.
Niemi was pulled in favor of Antero Niittymaki 44 seconds into the second period of Tuesday's game after allowing four goals on 10 shots. The Sharks erased a 4-0 deficit with Niittymaki in the crease and pulled out a 6-5 overtime win.
"(Niemi) has been there before, he's had a ton of experience, he's recovered well from poor games in the past and we really believe in this guy, so it's pretty simple," McLellan said Thursday.
Niemi said that he and Niittymaki, who stopped 11 of 12 shots Tuesday, watched tapes of Tuesday's goals, something they do following each game in the regular season and playoffs.
"I'm just trying to think about the next shot," said Niemi, who has a 1-1 record in three games in this series with a 3.87 goals-against average and .853 save percentage.
Better start needed: The Sharks haven't played with a lead since Game 1, when they were up 1-0 in the first period and 2-1 in the second before winning 3-2 in overtime.
"We need to come out with a productive start," McLellan said. "Our start last game wasn't that bad, other than we got scored on. I know that may sound insane. We have to come out and establish our game, but they're going to push back very hard. I think we know they're not going to be very happy with their performance, so we can reflect back on Game 2 when we took our foot off the gas pedal. We either will be lesson learned or lesson taught tonight, one or the other."
Getting the first goal would be a nice change and probably a significant one.
"It would be," Sharks captain Joe Thornton said. "These fans up here were fired up last game. You get one early on, we're going to get some confidence. Hopefully we can get the first one. We know they're going to come out strong after last game, so we have to weather the storm."
Except for Game 2, when the Kings cruised to a 4-0 win, both teams have shown the ability to erase deficits in this series.
"We want to get the first one and the next one and the next one after that," Sharks defenseman Dan Boyle said. "As we've learned in these playoffs, no lead is safe. It's just important that we play the right way. You're not going to be ahead all the time. You're going to be in all kinds of different scenarios.
"The very first period of the series, I think, was our best period so far, even though it's hard to argue about five goals in one period; that was pretty good, too," Boyle added, referring to the Sharks' second-period rally on Tuesday. "I just like the way we came out in the series and we just have to get back to that."
Sharks players said they aren't even thinking about the prospect of taking a 3-1 series lead back to San Jose for Game 5 on Saturday.
"Just business as usual," Thornton said. "We're just going to come in and try and win a game, that's all. We never really get too high in this locker room. It's just kind of the 'same, same' and see what we can do tonight. We realize the importance of tonight and we'll be ready."