NHL investigates clock stoppage in Los Angeles Kings' last-second victory over Columbus Blue Jackets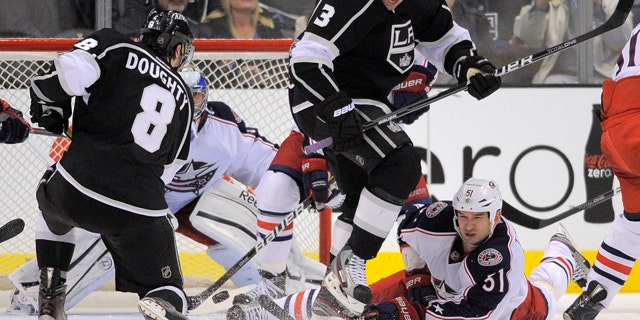 LOS ANGELES – The NHL is investigating a suspicious circumstance from Wednesday night's last-second victory by the Los Angeles Kings over the Columbus Blue Jackets.
With the game tied 2-2 and the home Kings on the power play, the clock froze at 1.8 seconds and remained stopped for more than a second.
Kings defenseman Drew Doughty's game-winner crossed the goal line with 0.4 on the clock.
Blue Jackets general manager Scott Howson immediately contacted the NHL after the game to address the fishy situation.
"I spoke with (NHL Senior Executive Vice President of Hockey Operations) Colin Campbell on two occasions after the game," Howson said in a statement. "Colin has promised me that the NHL will investigate this to try and figure out how this happened."
Howson said Campbell confirmed the official game clock at the STAPLES Center incorrectly stopped at 1.8, not just the clock shown on television.
"It is an amazing coincidence that with the Kings on a power play at STAPLES Center and with a mad scramble around our net in the dying seconds of the third period of a 2-2 hockey game that the clock stopped for at least one full second. I can only think of two ways in which this would have happened. Either there was a deliberate stopping of the clock or the clock malfunctioned," Howson said.
He added that even though the result is likely inconsequential for the last-place Blue Jackets, the organization will fight on behalf of its players. The game should have gone to overtime, with each team at least gaining a point in the standings.
"We will never know if we should have had one point or two points in the standings. What we do know is that we should not have had zero. Anyone who has competed at a high level of sports knows that when you put everything into a game, the result matters. And to have the result altered unfairly stings," Howson said.
At 13-32-6, Columbus is at the bottom of the NHL by 11 points.
But the result is significant to the Western Conference playoff race, since the Kings are in seventh place, now five points clear of Minnesota and six points up on Dallas and Colorado.