NFL's new national anthem policy based on fan reaction, not Trump, officials say
NEWYou can now listen to Fox News articles!
NFL officials contend that the new policy regarding the national anthem was more of a response to fans who attend games rather than fear of reprisal from President Trump.
Officials from around the league told Sports Illustrated on Thursday they heard from a lot of their fans, some who were angry with their team and others who were upset with the league.
"You know how many letters I got last fall?" Pittsburgh Steelers owner Art Rooney said. "Yeah, the fans' point of view on this was definitely a factor. We heard from a lot of fans over the last six months. No question that was part of the decision-making. [Those] people expect the players to be respectful during the anthem. Pretty simple."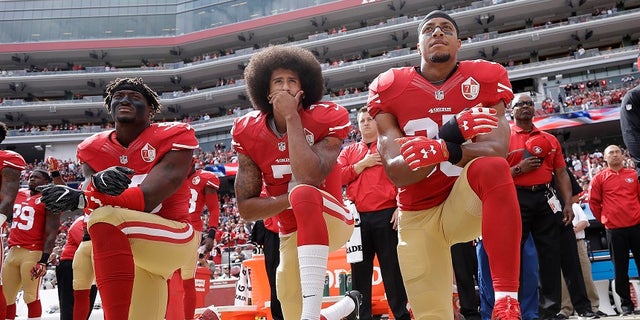 Dallas Cowboys COO Stephen Jones said that fans come to the game to get a break from the everyday norms.
"People come to our games to get away from everything," Jones said. "They don't want to worry about their finances, they don't want to worry about their job, [and] they don't want to worry about what's in the news. They want to get away and relax for three or four hours."
San Francisco 49ers CEO Jed York, the only official to abstain from the vote, said people have had enough of the "political fights."
"I think people do want to get back to football. But our players also have the ability, and the right to champion their causes and bring attention to those causes," York said.
Officials seemingly caving to their fans, rather than the president, was the opposite of a couple of reports that said owners were concerned with Trump's comments on the protests during the national anthem, with one team official explaining to Bleacher Report that owners are "f-----g terrified" of him.
Trump's name did come up during the meeting, according to Sports Illustrated. One owner said the president was mentioned three times, but not for long periods of time.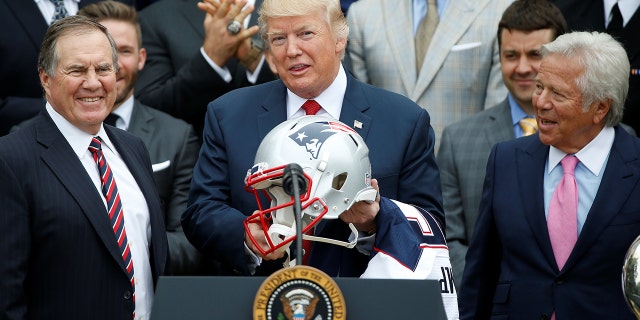 "It was more how [Trump] might react, anticipating that. Also, how the fans will react, how the media will react. That's what we tried to think through. … No matter what we did, [Trump] would probably try to get involved one way or the other—either criticizing us or taking credit for the change," Green Bay Packers president Mark Murphy said.
Dallas Cowboys owner Jerry Jones also explained that Trump "certainly initiated some of the thinking, and was a part of the entire picture. But all of that was given consideration."
Trump told Fox News' Brian Kilmeade that he supported the league's decision to fine teams should their players or personnel decide to skip the national anthem. He blasted players who still choose to kneel.
"I think people do want to get back to football."
"I don't think people should be staying in the locker rooms, but still I think it's good," Trump said. "You have to stand proudly for the national anthem. You shouldn't be playing, you shouldn't be there. Maybe they shouldn't be in the country."
The NFL's decision Wednesday came more than a year after former San Francisco 49ers quarterback Colin Kaepernick ignited a firestorm when he decided to kneel for the national anthem before a preseason game and then before regular-season games throughout the 2016 season.
"This season, all league and team personnel shall stand and show respect for the flag and the Anthem. Personnel who choose not to stand for the Anthem may stay in the locker room until after the Anthem has been performed," Goodell said.
NFL owners chose not to include the players in their decision.
"The NFL chose to not consult the union in the development of this new 'policy.' NFL players have shown their patriotism through their social activism, their community service, in support of our military and law enforcement and yes, through their protests to raise awareness about the issues they care about," the NFL players' union said in a statement.