NFL Quick Hits: Browns RB Crowell has 'edge' to start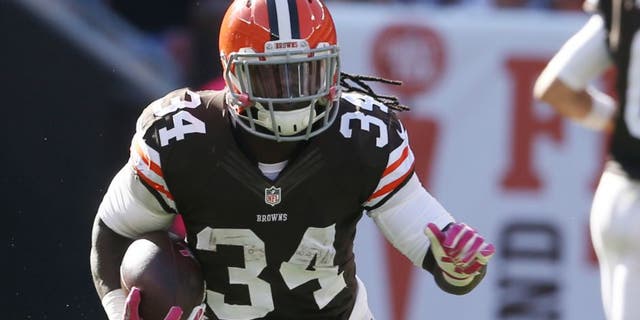 The preseason is over, and final cuts are due by 4 p.m. ET on Saturday. If you're worried about any of your fantasy players being cut, it's very possible that you've made some mistakes during this draft season. Fortunately, we're here to help.
The biggest news from Thursday's slate of preseason finales was that Tim Tebow has apparently won the Eagles' No. 3 QB job. TEBOW TEBOW TEBOW! If I learned anything in journalism school 25 years ago, it's that Tebow = pageviews.
In other news ...
Browns RB Isaiah Crowell got Thursday night off, and head coach Mike Pettine said he has "an edge" to be the Week 1 starter. According to Cleveland.com, the team "started Duke Johnson in the dress rehearsal game and expected him to claim the starting job, but he suffered a concussion and it's unknown when he'll be back." If you own Crowell, consider starting him next week -- even against the tough Jets' D -- but don't get too comfortable with him.
Falcons LB Brooks Reed, who was acquired in the offseason to bolster a terrible defense, had groin surgery and is expected to miss up to six weeks. Dan Quinn might be a defensive mastermind, but his defensive unit is still not good. The Eagles might drop 40 on them a week from Monday.
Falcons rookie RB Tevin Coleman ran eight times for 56 yards on Thursday. Beat writer D. Orlando Ledbetter thinks Devonta Freeman will be on the busy side of an 80/20 split with Coleman early in the season, but the feeling here is that Coleman will take over soon enough. My Coleman shares are not for sale.
Packers WR Jeff Janis caught a touchdown pass on Thursday. Big news for the Pack's No. 3 wideout battle, right? Maybe not -- the team's website notes that Myles White and Janis "give (Mike) McCarthy depth at wide receiver."
DE Jason Pierre-Paul is expected to (finally) report to the Giants next week. The Giants haven't even seen JPP's hand yet, so we have no idea when or if he'll play this season. The Big Blue defense has huge trainwreck potential.
The Panthers might have both starting cornerbacks in the NFL's concussion protocol as Week 1 approaches. Ugh.
Tom Brady is up to QB8 in my rankings, just below Ben Roethlisberger. While Brady won't be suspended for Week 1, LeGarrette Blount, Le'Veon Bell and Martavis Bryant will. DeAngelo Williams, and even though we can never safely predict the Patriots' running back plans, Jonas Gray seems like the best bet for carries.
Seahawks rookie WR Tyler Lockett continued his excellent preseason, catching a 63-yard TD pass from Russell Wilson. Lockett is still more likely to make an impact in the return game than the offense, so don't get too excited for fantasy purposes.
Colts RB Boom Herron injured his shoulder on Thursday, and will be re-evaluated today. Josh Robinson might be Frank Gore's backup in Week 1.
Here's a story suggesting the Redskins will run the ball upwards of 500 times, which only four teams did last season. This is good news for Alfred Morris owners.
Have you enjoyed Jarryd Hayne's push for a roster spot with the 49ers? Read this article I wrote for FOX Sports Australia about the rugby star's fantasy prospects.
Injuries we'll be watching before Week 1: Alshon Jeffery (calf), LeSean McCoy (hamstring), Victor Cruz (knee, calf).
If you need assistance over the weekend, the FOXSports.com fantasy will be happy to help you via Twitter:
D.J. Foster (@FOXSportsFoster)
Ryan Fowler (@FOXSportsFowler)
John Halpin (@jhalpin37)
Adam Meyer (@FOXSportsMeyer)
See you back here Tuesday morning, or earlier if news warrants. Enjoy your final non-fantasy weekend!