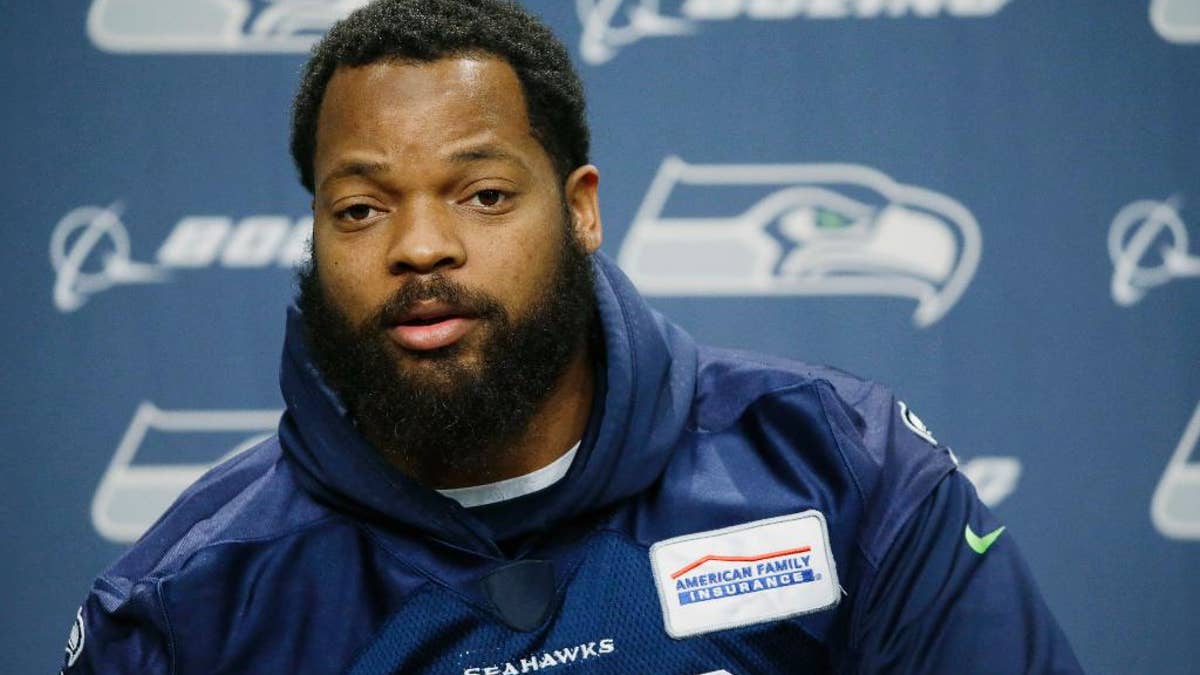 The head of a Las Vegas police union reiterated his demand for an apology from an NFL player Friday, after a top Las Vegas police official cleared of wrongdoing three officers who briefly detained Seattle Seahawks defensive end Michael Bennett outside a casino last month.
Bennett -- who was stopped while fleeing the casino amid reports of gunfire that proved to be false -- claimed one officer pointed a gun at him and threatened to blow his head off.
"It was a traumatic experience for me and my family," Bennett told the Seattle Times earlier this month. "It sucks that the country we are living in now sometimes you get profiled for the color of your skin."
But Steve Grammas, president of the Las Vegas Police Protective Association, called Bennett's accusations "outlandish," and said they defamed every officer in the department, the Las Vegas Review-Journal reported.
On Friday, Clark County Sheriff Joe Lombardo, head of the Las Vegas Metropolitan Police Department, said the officers acted appropriately and professionally when they detained Bennett.
Authorities reviewed hundreds of videos, including those from police body-worn cameras, but found no evidence that the officers who had direct contact with Bennett profiled the player by race or used excessive force, Lombardo said.
"Mr. Bennett has a valid perspective as a person who experienced a reasonable-suspicion stop for a felony crime," Lombardo told reporters. "Those who experience such a stop, especially when they have not committed a crime, are not likely to feel good about it."
Bennett committed no crime, the sheriff said. But he was detained at gunpoint, handcuffed and seated for about 10 minutes in the back of a patrol car until police searching the crowded casino concluded that what people thought was gunfire was actually the sharp sound of velvet rope stands knocked to a tile floor during a scuffle.
The incident occurred early Aug. 27, just hours after an Aug. 26 boxing match between Floyd Mayweather Jr. and Conor McGregor. It has been one of several incidents to which NFL players have referred as part of their protests during the playing of the national anthem before NFL games.
Video footage shows an officer with his gun out while handcuffing Bennett as he lies in a traffic lane on Las Vegas Boulevard outside the Cromwell casino. But Lombardo said there was no evidence to back Bennett's allegation, made on Twitter more than a week later, that an officer put a gun to Bennett's head and threatened to blow his head off.
"From the evidence we have at this point, we don't know (the officer) said that," the sheriff said.
Police union leader Grammas said he didn't know why Bennett would consider the case a race-based incident. When asked if he stood by a previous call for Bennett to apologize to police, Grammas said yes.
"Now more so than ever," Grammas said, according to the Review-Journal.
Bennett announced in early August that he would sit during the national anthem this season to protest social injustice and was one the first NFL players to protest this year. He has remained one of the most outspoken pro athletes on numerous social issues.
The player's attorney, John Burris in Oakland, Calif., said he wants to review videos more closely. But he said he believed the clips shown verified Bennett's accounts.
"He was not acting improperly," Burris told the Associated Press. "He was not acting suspicious. He was not involved in any criminal activity.
"There's nothing to go on, no description, other than you see this big black man running," the attorney added. "He was running like everyone else, trying to get away."
Neither Lombardo nor Grammas identified the officers involved in the incident. The officer who chased Bennett and handcuffed him didn't have his body camera on at the time, Lombardo said, and might face departmental discipline.
Otherwise, "I believe they acted appropriately and professionally," the sheriff said of the officers.
The Associated Press contributed reporting to this story.