NFL levies fine on Rams CB Lamarcus Joyner for hit on Teddy Bridgewater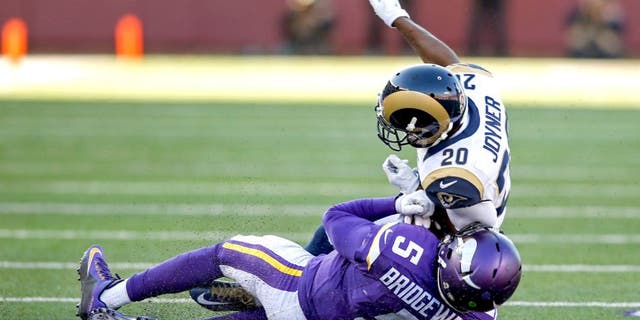 Rams defensive back Lamarcus Joyner on Thursday was fined for his hit on Teddy Bridgewater during the Vikings week last week.
Bridgewater was knocked out of the game against St. Louis on Sunday by a hit to the head from Joyner, one of several hits by the Rams that had head coach Zimmer steamed after the game. Veteran Shaun Hill replaced Bridgewater in the fourth quarter and did just enough to help the team to a 21-18 overtime victory that helped the Vikings (6-2) move into a tie with Green Bay for first place in the NFC North.
Bridgewater seemed poised not to miss any time. was back at practice on Wednesday, keeping the optimism high that he will be back on the field this Sunday in Oakland.
"He's progressing nicely," Zimmer said.
Bridgewater was a limited participant during the first practice of the week and was unavailable for comment on Wednesday.
--With the Associated Press