NFL defensive lineman claims trainer responsible for four-game PED suspension, lawsuit says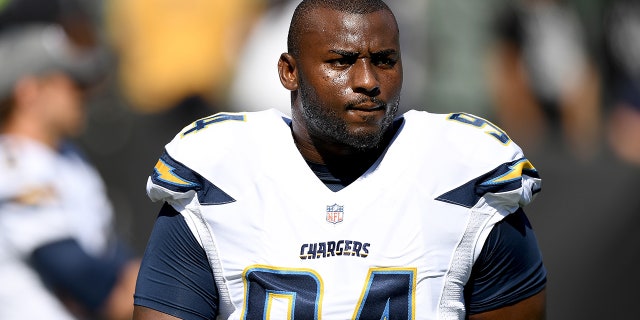 A Los Angeles Chargers defensive lineman sued his trainer Monday, claiming the man is responsible for a four-game suspension incurred when the athlete failed a performance-enhancing drug test.
Defensive tackle Corey Liuget filed a lawsuit against Ian Danney and Danney's Arizona-based business in Los Angeles, seeking at least $15 million in damages.
Liuget, who is in his eighth season with the Chargers, says Danney injected him with a substance banned by the FDA and the NFL. The substance was used to treat pain stemming from broken bones in Liuget's feet, ESPN reported.
Liuget also alleges Danney gave him a prescription medication despite Liuget's lack of a prescription for the substance.
Danney hadn't responded to the charges as of Wednesday morning.
Liuget, 28, said in a statement through his attorney that he decided to sue because the suspension compromised his ability to be a leader in the community and he wanted to set the record straight.
"I take enormous pride in how I conduct myself. That includes training in the right way and working hard to accomplish as much as I can do," Liuget said in the statement. "I do not, and would never, cheat. And a driving motivation for me is to serve as a role model for children and young adults."
Liuget was suspended in March and is eligible to return Week 5 against the Oakland Raiders.
Liuget has played in 102 games during his career, recording 22.5 sacks and 199 tackles.
The Associated Press contributed to this report.