NFC South Stock Market: Week 6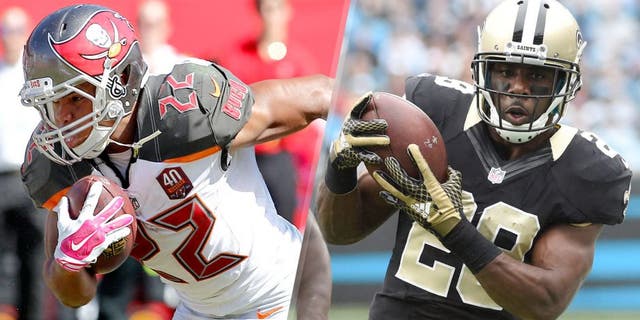 NEWYou can now listen to Fox News articles!
The NFL regular season is more volatile on a week-to-week basis than the Stock Market. One team that lost by several touchdowns the week before can follow up with a blowout victory. Players who are responsible for the blame one week could be responsible for a game-winning play the next.
With Week 5 of the regular season in the books, let's take a look at three NFC South players who saw their stock rise, and three others from the division who saw it fall.
THREE UP
Doug Martin, running back, Tampa Bay Buccaneers
The man formerly known as the "Muscle Hamster" is back, folks. While Martin has had a solid 2015 up to this point, his breakout officially came in Week 5. Martin was the key reason why the Buccaneers were able to defeat the Jacksonville Jaguars 38-31, and get to 2-3 on the season. Not only did he rush 24 times for 124 yards and two touchdowns, but he also caught three balls for 35 yards and another touchdown. With Martin running like this, it helps ease the pressure on Jameis Winston quite a bit.
Willie Snead, wide receiver, New Orleans Saints
It's not often that you find a player involved in a 39-17 loss on the "three up" side of things. For Snead, it's well-deserved though. The rookie receiver from Ball State has improved throughout the season, and has quickly become one of Drew Brees' most reliable wide outs. Hist most recent performance was the best of his career, as he caught six passes for 141 yards. If Snead continues to shine like this, don't be surprised to see him get plenty of looks moving forward in the season.
Jameis Winston, quarterback, Tampa Bay Buccaneers
One could argue that after throwing four interceptions in Week 4, there was nowhere for Winston's stock to go but up, right? Well, Winston managed the game perfectly in Week 5, helping lead his team to a vital win. He completed 68.4 percent of his passes, throwing for 209 yards and one touchdown. The most impressive stat for Winston of them all, was the fact that he didn't turn the ball over once, for the first time in his young NFL career.
THREE DOWN
C.J. Spiller, running back, New Orleans Saints
Spiller walked off the field after catching an 80-yard game-winning touchdown against the Dallas Cowboys in Week 4 looking like the man poised to revitalize this Saints offense. Unfortunately, things took a major turn in the wrong direction in Week 5. Not only did Spiller manage just 10 yards on three rushes, but he caught three balls for a total of negative eight yards. It was a brutal outing for Spiller, and the Saints badly need him to get the ball rolling in Week 6.
The entire pass rush of the New Orleans Saints
I'm not sure where exactly any form of pass rush for the Saints went against the Philadelphia Eagles in Week 5, but it was nowhere to be found. The Saints tallied exactly zero quarterback hits and zero sacks. With the complete lack of pressure that New Orleans got on Sam Bradford on Sunday, it's no surprise that this defense allowed nearly 40 points in a brutal loss on the road. Something has to change defensively for the Saints moving forward.
Matt Ryan, quarterback, Atlanta Falcons
It's tough to put Ryan on this list, as he's done such a great job leading the Falcons to their 5-0 start. With that said, Sunday was definitely not Ryan's finest performance. He completed just 24-of-42 passes for 254 yards, zero touchdowns and two interceptions. His quarterback rating of 55.1 was by far his worst of the year, as he's topped a rating of 90 in every other game. It can likely be chalked up to just an off day for Ryan, but his stock still falls, as the win for Atlanta in Week 5 largely comes thanks to Devonta Freeman and the team's defense.