NFC South Stock Market: Week 5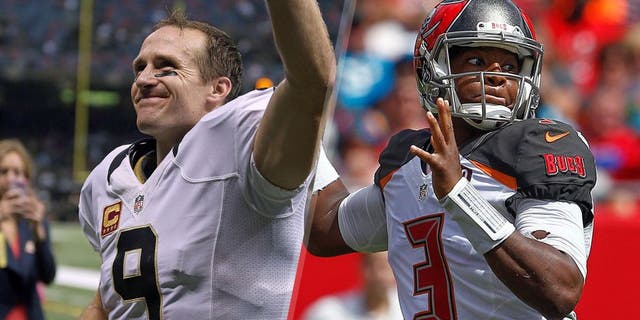 NEWYou can now listen to Fox News articles!
The NFL regular season is more volatile on a week-to-week basis than the Stock Market. One team that lost by several touchdowns the week before can follow up with a blowout victory. Players who are responsible for the blame one week could be responsible for a game-winning play the next.
With Week 4 in the books, let's take a look at three NFC South players who saw their stock rise, and three NFC South players who saw it fall.
THREE UP
Drew Brees, quarterback
What can you say about Brees? He was dealing with an injured shoulder that forced him to miss Week 3 against the Carolina Panthers. He refused to sit on the sidelines in Week 4, which wound up a great decision. Whether or not Brees was bothered by his shoulder is unclear, but he sure didn't play like it. The veteran QB completed 33-of-41 passes for 359 yards and two touchdowns, including an 80-yard toss to C.J. Spiller in overtime to seal the victory. It gets no prettier than what Brees did on Sunday night.
Leonard Hankerson, wide receiver
While the obvious focus for the Houston Texans was to bottle up Julio Jones, who was dealing with a toe injury, the Atlanta Falcons needed someone to step up. Fortunately, Hankerson was the man for the job. Atlanta didn't skip a beat in Week 4, going up 42-0 after three quarters, and Hankerson was a go-to option for Matt Ryan in the passing game, catching six balls for 103 yards and a score. It's safe to say at this point that Hankerson has surpassed Roddy White as the No. 2 wide receiver in Atlanta.
Entire Atlanta Falcons defense
The entire defensive unit for the Falcons deserves a standing ovation. This defense took what Dan Quinn was preaching and ran with it. Not only did it hold the Texans without a single point through three quarters, but it totaled three forced fumbles, scored two touchdowns and had an interception. To show exactly how much their secondary was swarming on Sunday, you can look at their 10 pass deflections as proof. Atlanta was everywhere in Week 4, and if this defense plays like this moving forward, Atlanta as a whole will be a tough team to beat.
THREE DOWN
Jameis Winston, quarterback
Attempting to figure out which Winston you're going to get on a weekly basis is becoming a bit of a headache. In Week 4, the rookie QB may have salvaged his stat line a bit by throwing two touchdowns, but he still was forced to throw 43 times and tossed four interceptions while doing so. Winston has to protect the football and improve on his accuracy. Through four games he's completed just 54.9 percent of his passes, while throwing six touchdowns against seven interceptions. Week 4 was the biggest we've seen Winston's stock drop thus far.
Brandin Cooks, wide receiver
It may be time to sound the alarm on Cooks. While the Saints went on to earn an impressive overtime victory, Cooks was very, very quiet once again. He caught four balls for 25 yards on eight targets. To this point in 2015, Cooks has yet to top 80 yards, and his best game came in Week 3 with Luke McCown under center. New Orleans needs to find a way to get the ball to Cooks downfield. He's their big-play receiver, and is getting plenty of targets, but it needs to turn into more than an average of 53.75 receiving yards per game.
Mike Evans, wide receiver
So we know that Evans was essentially a decoy in Week 2 after he missed Week 1 due to a hamstring injury. That explains him catching zero balls in that game, but he bounced back in Week 3 with seven catches on 17 targets for 101 yards. Evans seemed like he was back and ready to light the world on fire again. Unfortunately, that all changed in Week 4 against the Panthers. Evans was targeted eight times, but had an incredibly quiet day, catching just three passes for 32 yards. In a game where the Buccaneers were constantly playing from behind, it's disappointing to see Evans post such an unimpressive stat line.