New receiver group, Tannehill have OC Lazor 'really excited' in Miami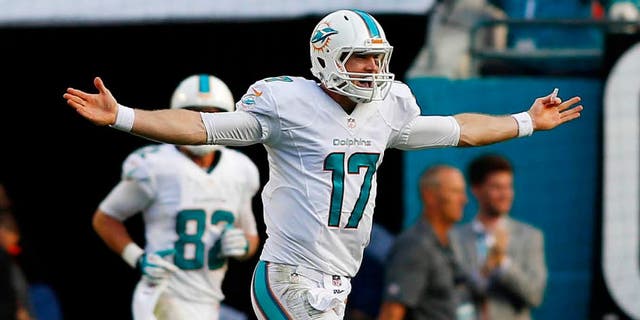 Ryan Tannehill has improved in each of his first three seasons in the NFL. His touchdown numbers have increased, as have his yards, while his interception numbers have gone down.
Incredibly, there's no reason to believe he can't continue the same trend in 2015. With a new group of dynamic receivers, Tannehill has all the weapons to put up MVP-caliber numbers, and it's got offensive coordinator Bill Lazor excited.
"Every day you see more guys getting better and getting to the point where, as the coach, you can picture all these guys helping you," Lazor said via James Walker of ESPN. "That's what you need. We know it's a long season. I think the group is rising as a whole. I'm really excited."
Lazor has plenty of reason to be excited. With Jarvis Landry and Rishard Matthews returning at receiver to team up with the newly-acquired Greg Jennings, Kenny Stills, and DeVante Parker, it's a group that will give every defense fits.
For Tannehill, much of this offseason has been dedicated to improving his deep passes. By all accounts, he's done just that, hitting on numerous deep balls in practice. That's no coincidence to Lazor, though.
"The guy has worked his butt off physically doing it the right way, getting better," Lazor said. "He's worked his butt off mentally and knowing where everyone is. He's worked at it. That is by far the No. 1 thing."
The Dolphins will have their "dress rehearsal" against the Falcons on Saturday where the offense will look to get into a rhythm and prepare for the start of the regular season.
(h/t ESPN)