New Orleans Saints wide receiver Michael Thomas uses cell phone in TD celebration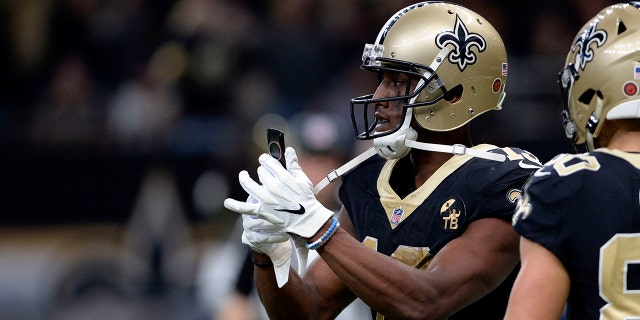 New Orleans Saints wide receiver Michael Thomas' touchdown celebration against the Los Angeles Rams lit up social media Sunday -- but it cost him.
Thomas scored on a 72-yard touchdown pass from Drew Brees with less than four minutes to play in the fourth quarter to put the Saints up by 10 points in a 45-35 win over the Los Angeles Rams. Thomas then went to the goal post and lifted up the padding around the base of the post, where he had hidden a cell phone.
The 25-year-old then made what is probably the most expensive phone call in his life: Thomas was penalized for the excessive celebration and faces a $13,369 fine, according to ESPN.
Thomas' celebration was a tribute to former Saints wide receiver Joe Horn, who, in 2003, pulled the same cell stunt after scoring.
Horn's end zone call, however, was even more costly, with the NFL levying a $30,000 fine for the Saints standout's celebration.
Thomas said he was prepared to perform the Horn homage if he scored in either end zone, as he had hidden phones waiting on both sides of the field. Thomas hadn't talked to Horn about the celebration prior to the game.
"I paid a tribute to him, tried to get the crowd going a little bit more, set the tone, have fun out there, giving people a show," Thomas said, according to ESPN. "You gotta have fun. All these guys just catching touchdowns and celebrating with each other, having fun, getting the crowd involved. I felt like I had an opportunity to make it happen, put the game away and make a call."
Horn told The Times-Picayune he was working out at a gym in Mississippi when he saw Thomas' celebration.
"When I saw him bring out that cellphone, I teared up," Horn said. "That's something that some kids don't do, to pay homage to an old soul. For him to do it on a national stage took a lot of courage. I'm humbled."