New Orleans Saints Rally Past the Dallas Cowboys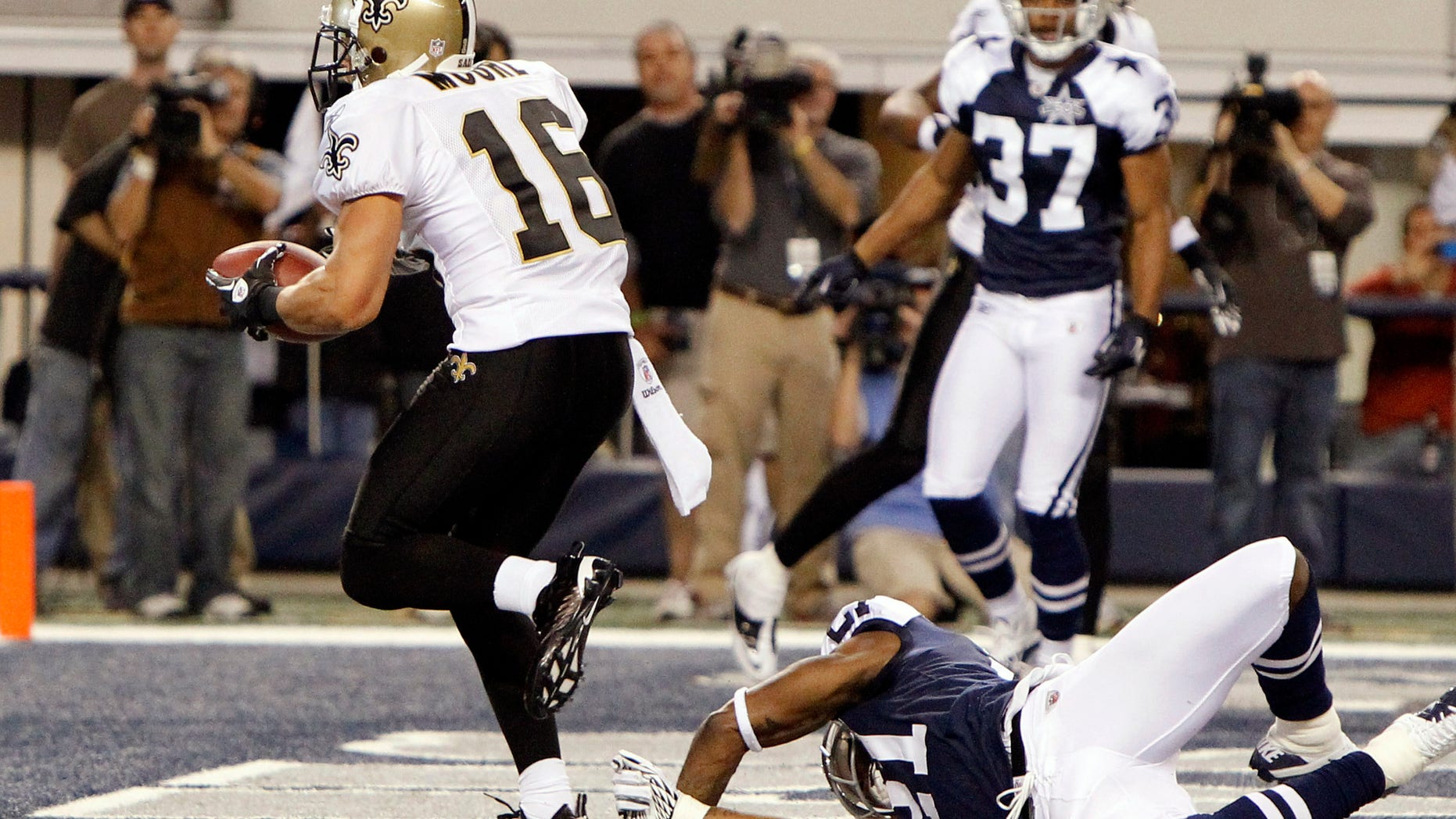 ARLINGTON, Texas -- Drew Brees was a young Dallas Cowboys fan cheering on Jason Garrett during his amazing comeback victory on Thanksgiving 1994. With Garrett and the Cowboys on the verge of another holiday stunner, Brees and the New Orleans Saints snatched it away.
Brees and the Saints blew a 17-point lead, but went back ahead with 1:55 left on a quick, long drive and held on for a 30-27 victory when the Cowboys' David Buehler narrowly missed a 59-yard field goal.
New Orleans coach Sean Payton appeared to try calling timeout as the ball was snapped, which would've given Dallas another chance. But the officials didn't give it to him, so the play stood.
The Saints, playing on the holiday for the first time, won their fourth straight and fifth in six games to improve to 8-3. The Cowboys (3-8) lost for the first time in three games since Garrett became interim coach.
Sixteen years ago, Garrett was a third-string quarterback making a rare start in place of Troy Aikman when the Cowboys fell behind Brett Favre and the Packers 17-3. Garrett rallied them a 42-31 victory that's among the most stirring in team lore.
This one would've been darn good, too.
Dallas trailed 17-0 after the first three times New Orleans had the ball. The Saints also were up 20-3 just before halftime.
Then, Buehler made a career-best 53-yarder as the second quarter ended -- and the rally was on. Dallas scored on four straight possessions to get close, then went ahead 27-23 on Tashard Choice's 1-yard touchdown run with 5:51 left.
The Cowboys were on their way to stretching the lead when Roy Williams broke free with a catch and raced 47 yards toward the end zone, following a block by Miles Austin. Safety Malcolm Jenkins raced over and stripped the ball at the 11, and Brees took it from there.
On the winning drive, he hit Robert Meachem for 55 yards and Lance Moore on a 12-yard touchdown strike.
Both teams might need the 10-day layoff to get over the emotional hangover from this wild, wacky, thriller.
The game was filled with would-be heroes like Miles Austin, who kick-started Dallas' rally by taking an end around 60 yards for a touchdown on the second play of the second half, and would-be goats like Reggie Bush, who had a forgettable return from an eight-game layoff because of a broken foot. He dropped a likely touchdown pass with the Saints up 20-13, then fumbled on a punt return to set up the Cowboys' touchdown that made it 23-20.
Brees finished 23 of 39 for 352 yards with a touchdown and an interception. That was another play that would've been a bigger deal had the outcome been reversed -- it bounced off the hands of tight end Jimmy Graham and into the hands of Dallas safety Gerald Sensabaugh, leading to Choice's go-ahead score.
The Saints opened the game so crisply, they looked capable of returning to Cowboys Stadium for that informal national holiday in February, the Super Bowl. Brees marched them 80 yards in four plays on the opening drive, never even seeing a second down. They intercepted a screen pass and Garrett Hartley kicked a career-best 50-yard field goal, then Brees drove for another touchdown and the 17-0 lead.
Marques Colsston finished with six catches for 105 yards for New Orleans, and Devery Henderson had 97 yards receiving. Former Cowboys starter Julius Jones ran for 45 yards for the Saints, and Chris Ivory ran for 38 yards and two touchdowns.
Cowboys quarterback Jon Kitna was 30 of 42 for 313 yards, and Jason Witten had 10 catches for 99 yards.
Dallas got rushing touchdowns from Austin, Choice and Marion Barber. The club had just two rushing touchdowns all season coming in.