New kicker Kai Forbath finds familiar crew with Vikings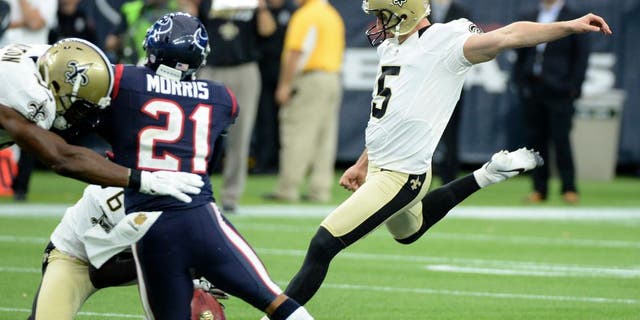 EDEN PRAIRIE, Minn. -- Kai Forbath spent his first morning in Minnesota at the stadium where he'll make his debut with the Vikings, testing his footing on the artificial turf and gawking a bit at the light-filled, luxurious building that will give him the advantage of a controlled climate.
Such conditions are every kicker's preference. The same goes for the fresh start Forbath will be afforded with his new team and its discouraged fan base.
"This isn't my first time coming in and replacing someone," said Forbath, who finalized his contract with the Vikings on Wednesday following the team's fourth straight loss and the release of struggling incumbent Blair Walsh.
Forbath, who's 69 for 82 on field goals (84.1 percent) and 124 for 127 on extra points (97.6 percent) over his NFL career, also has the benefit of working with fellow UCLA products long snapper Kevin McDermott and punter/holder Jeff Locke.
"So I'm feeling pretty confident going into it," said Forbath, who was part of a six-man tryout group last week before the Vikings decided to give Walsh one more opportunity to escape his slump.
Forbath overlapped with McDermott and Locke in the program for three years, and they're offseason workout partners in Los Angeles along with, coincidentally, Walsh, who missed his league-most fourth extra point last week at Washington.
Having been cut by the Redskins one game into the 2015 season, Forbath knew that feeling of sudden job loss.
"I've learned the hard way that this is a tough business. I obviously wish him the best," Forbath said, adding: "He did really well for a long time. I'm just here to take it one kick at a time, and hopefully I'll be here for a long time."
Forbath estimated the long end of his field goal range around 57 yards. One of the reasons Washington cited in cutting him last year was a lack of distance on kickoffs, but Forbath said he believes he has improved that skill through experience.
Locke handled kickoffs at UCLA, leaving Forbath to focus on extra points and field goals, but the Vikings want Locke to stay solely a punter during what has been a solid season for him.
"It's nice to have that familiarity especially with a quick change like this," McDermott said.
The cold, hard nature of NFL business sure hit the Vikings specialists hard this week.
"It's vicious sometimes, and it's really hard to see people go through it, but he's going to get an opportunity to go somewhere else," McDermott said.
"I believe that he's going to be successful in the future and he's just an unbelievable guy, so I really have just the utmost respect for him. I consider him one of my closest friends."
With the Vikings (5-4) still tied for first place in the NFC North, they weren't willing to keep risking victories with missed kicks.
"It was just something we felt like we needed to do, kind of move forward," coach Mike Zimmer said.
"We're all accountable for the things we have to get done, and I think we gave him a lot of opportunities. Although Blair's a great kid and it was hard to do, it's just part of the business."
In a season of an almost unfathomable series of shuffles the Vikings have had to make, it's only fitting that they'll have another new left tackle Sunday when they host Arizona.
Jake Long had surgery Wednesday on his left Achilles tendon, bringing the total of tackles the Vikings have lost to injury since the week before training camp to five.
Zimmer wouldn't reveal who would start against the Cardinals, but left guard Alex Boone sounded as though he'll be the one to move so the Vikings can keep T.J. Clemmings at right tackle.
"I've played it before," Boone said. "I just feel like it'd be an easier move for me than T.J., but at the end of the day it's up to the coaches."
In that scenario, Jeremiah Sirles would move to left guard. He has played every position but center this year.
"We know everyone that's going to be out there," Boone said. "We've just got to figure out where they're going to be."