New England Patriots: 7 building blocks for 2016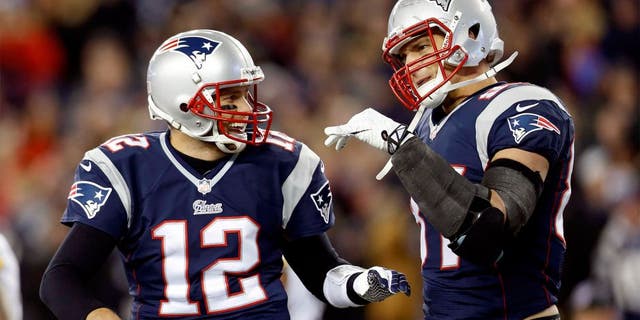 Although the season ended two weeks before they had hoped, the New England Patriots once again proved that they're a top team in the AFC. Injuries played a huge role in their struggles down the stretch, yet they were still one win away from playing for a second consecutive Super Bowl.
With 2015 in the books for New England, we take a look at the players for the Patriots to build around for next season.
1. Tom Brady
The Patriots are a winning team each year because of Brady. He proved that once again this season when he helped carry the offense after Julian Edelman, Nate Solder, Rob Gronkowski and nearly every other offensive weapon went down with injuries. Despite the lackluster cast at times, Brady still managed to put together one of the best seasons of his career. He completed 64.4 percent of his passes with 4,770 yards, 36 touchdowns and just seven interceptions. He was a frontrunner for MVP for most of the season, but Cam Newton's outstanding play will likely keep Brady from winning the award. Going into 2016, the Patriots are once again a Super Bowl favorite thanks to Brady.
2. Rob Gronkowski
It's amazing to see what Gronk has accomplished in his career despite being in the league for just six seasons. He's already set several records for tight ends and has eclipsed double-digit touchdowns in five of his six years in the NFL. If Gronkowski is able to stay healthy in the future, he will go down as one of the best to ever play the position. He'll be the Patriots' second-best offensive player in 2016 regardless of any additions they make in the offseason -- that's how good Gronkowski is.
3. Jamie Collins
On the other side of the ball, Collins leads a defense that is young and extremely talented. He was a very versatile weapon for defensive coordinator Matt Patricia as an outside linebacker and at times, a pass rusher. He's great in coverage, yet he also plays the run very well. There's really nothing Collins can't do, and like Gronk, he will continue to rise among the best at his position if he can stay healthy. In 12 games this season, he recorded 89 tackles, 5 1/2 sacks, six passes defensed and one interceptions. The Patriots' defense looked different when he wasn't on the field. Signing him to a long-term deal before his contract expires should be a priority.
4. Chandler Jones
The second outstanding young defender in New England is Jones. He burst onto the scene this season with a career-high 12 1/2 sacks and four forced fumbles. The combination of Jones, Rob Ninkovich and Jabaal Sheard give the Patriots one of the best pass rushes in all of football. That was evident this season when they helped give New England the second-most sacks in the league. Like Collins, he'll be a free agent after next season and is playing his way towards a long-term extension -- and a lucrative one, at that.
5. Julian Edelman
The offense is certainly lacking depth at several positions, but Edelman gives the Patriots a dangerous weapon out of the slot. When healthy, there may not be a better slot receiver than Edelman and he fits perfectly into what Brady and Josh McDaniels want to do on offense. There's a reason why the Patriots were 9-0 with him on the field in the regular season. He's also a bargain, having a cap hit of just $4.42 million in 2016. This season, he caught 61 passes for 692 yards and a career-high seven touchdowns.
6. Malcolm Butler
Had it not been for Butler's emergence this season, the Patriots' secondary would have been in for a long season. Following the departures of Darrelle Revis and Brandon Browner, cornerback was a major question mark for 2015. Butler, however, put those questions to rest with an outstanding season -- one that earned him a spot in the Pro Bowl. He picked off two passes and knocked down 15 others to go along with 67 tackles in 16 starts. His cap hit of $600,000 is minuscule compared to other top cornerbacks in the league, and he'll be in for a big pay day in the near future.
7. Devin McCourty
McCourty didn't get much attention this season, but he was very valuable in the defensive backfield. Because of the lack of depth at cornerback, McCourty was forced to move away from playing safety and play both the slot and outside cornerback spot. His position flexibility allowed the Patriots to get their best defensive backs on the field at all times and proved he was well worth the money New England paid him in 2015. He can help at multiple spots next season, as he has in the past.