NCWTS young guns graduate as series' face continues to change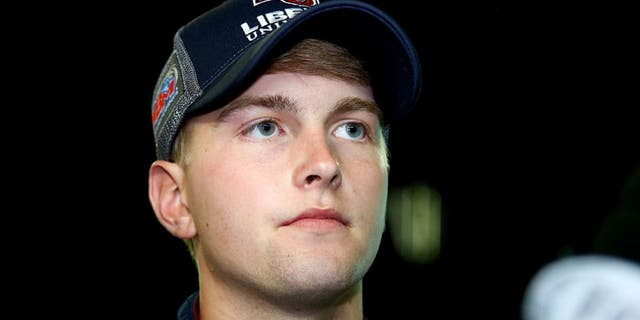 A quick look at a NASCAR Camping World Truck Series poster featuring today's stars paints a vastly different picture than drivers who built the series beginning with its 1995 inaugural season. Gone are the facial hair and weathered faces. In their place are fresh, wide-eyed and clean-shaven (if even at all) faces behind the helmets.
The Truck Series' founding fathers -- veterans such as Ron Hornaday Jr., Mike Skinner and Jack Sprague -- were 36, 37, and 30 years old, respectively, in their first series race in 1995. By contrast, today's standouts, including points leader William Byron, Daniel Hemric, who sits second on the Chase grid, and Cole Custer, are 18, 25 and 18 years old.
In 2015, then-rookie Erik Jones was the youngest champion in series history at 19 and now is seeded first on the XFINITY Series Chase Grid. Furthermore, at Iowa Speedway earlier this season, the average age of the top-five finishers was 18.5 years.
Byron, Custer and Hemric recently announced 2017 plans to compete in high-profile XFINITY Series rides. Their replacements likely will be just as young.
Such is the changing face of the Truck Series. What began as a division comprised of drivers in their 30s and beyond has become a proving ground for young racers using trucks as a stepping-stone to an even bigger national stage.
"The Truck Series was built on the veteran driver, guys who had been around and in other series and were winding down their careers," said FOX NASCAR analyst and two-time NCWTS champion Todd Bodine. "They put on one hell of a show for the fans every single week, building the series into what it is today. The veteran drivers are why this series has been so successful to this point."
"In 1995 and the very early years, the Truck Series was an even mixture of guys who came in with a solid resume from other series that oftentimes included championships," FOX NASCAR analyst Ray Dunlap said. "Those racers had all proven themselves, but most NASCAR fans probably hadn't heard of them yet."
Then the average age of the series' competitors began to drop.
"When I started in NASCAR in 1991, owners wanted a 40-year-old veteran who would win a couple of races and get good finishes without wrecking the cars," Bodine said of his early NASCAR career. "That thought process has changed to where they now want a kid full of piss and vinegar who will go pedal to the metal every lap, and if they wreck, so be it because the owners can afford to fix it because of sponsorship. These kids have experience. They're making mistakes but not big ones."
The tide has indeed turned, with many drivers nowadays celebrating their 18th birthdays at the race track instead of their 50th.
"The face of the Truck Series has changed considerably over the past few years, in particular the past three," Dunlap said. "We began this season saying this may be the greatest rookie class since 1995, and we have had the pleasure of watching that prediction play out. Every rookie has a championship or pedigree from previous racing series."
"This seismic shift started three or four years ago when many of the legendary veterans were either on their way out or were in the twilight of their careers," FOX NASCAR analyst and former driver Phil Parsons said. "Back then, Matt Crafton had only two wins and no championships and was getting beat by those guys every week. Then all of a sudden, there's none of those veterans, and their absence opened the door for drivers who had been in the middle to make great strides. Now Crafton, Johnny Sauter and Timothy Peters are the veterans."
Bodine attributes much of the trend toward younger drivers to more plentiful opportunities available to them.
"Today's young racers have the ability to gain experience much easier than my generation did," Bodine explained. "Now there are major go-kart series, Bandoleros, Legends cars and many lower, less-expensive divisions in which parents can afford to put their kids to get them experience. I don't care what you're sitting in, as long as you're getting experience. These kids did it at 12, 13 and 14 years old, and when they're 16 in the Truck Series, bam, they've got a good ride because they've honed their craft."
It's a trend many expect to continue for years to come.
"Look for the series to continue along this path to developing younger talent," Parsons stated. "I hope we continue to attract younger kids who want to get their feet wet in NASCAR. The logical steppingstone to the Truck Series would be from the K&N Series and the ARCA Series, and there are several extremely talented kids in those divisions right now."
However, much like the racing prodigies of recent years, don't expect the next superstars to stick around the Truck Series for too long.
"We'll see more of these kids come in for a year or two and then be gone, just like Erik Jones and William Byron," Bodine predicted. "Right now, we're witnessing it more often because the Cup Series drivers are starting to age out. Many of them are hitting retirement age at the same time. It's generational. We saw this whole process about 20 or 22 years ago when I got my first opportunity in the Cup Series. Now it's cycling back through, and it's pretty cool to watch."