NBA's Noche Latina Surprise: San Antonio's Los Spurs Topple Miami's El Heat, 111-87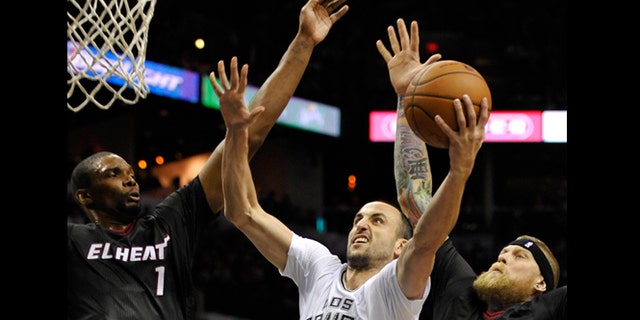 Led by a no-frills coach, the San Antonio Spurs have long stated the regular season means little to them.
Yet even normally stoic San Antonio couldn't hide its emotion on the court, and the satisfaction afterward, of toppling the two-time defending champion Miami Heat.
On Noche Latina in San Antonio, with both teams wearing Spanish-language jerseys, Tim Duncan had 23 points and 11 rebounds, and "Los Spurs" never trailed against "El Heat," weathering a sluggish third quarter for an intense 111-87 victory Thursday.
"I'm sure this has some special meaning, to say something different would be silly," San Antonio coach Gregg Popovich said, "but we expect them to come out hard and play."
In their first home game against Miami since losing a heart-wrenching, seven-game NBA Finals, the Spurs handed the Heat their worst loss of the season.
The rematch brought out a raucous sold-out crowd and sparked high emotions from both teams. Players dived recklessly for loose balls and yelled at officials, while Popovich often screamed at his own players.
"We needed a game like this," said Manu Ginobili, who contributed 6 points and dished out 4 assists in 20 minutes. "We've been talking (about it) all season long. Our record was probably 1-10, 1-8 or something like that against the top four teams in the league. So we needed a big one, and today we played well. . It's one of those wins that really gets you going."
Tony Parker scored 17 points, including 14 in a wild first half, Boris Diaw added 16 and Kawhi Leonard had 11 for the Spurs (45-16), which has won five straight.
Chris Bosh had 24 points, LeBron James added 19, Dwyane Wade had 16 and Michael Beasley 11 for Miami (43-16).
James, who ditched the protective mask he was wearing early in the first half, was hounded by Leonard into shooting 6 for 18.
The Spurs didn't do anything different defensively than they had in the past, James said, but the NBA did. The four-time MVP said the short-sleeved, tight-fitting "El Heat" jerseys Miami had to wear are not conducive for shooting.
"I'm not making any excuses, but I'm not a big fan of the jerseys," James said. "So I have to figure something out next time I have to wear the short-sleeve jerseys. Every time I shoot, it feels like it's just pulling right up underneath my arm. I already don't have much room for error on my jump shot anyways, so it's definitely not a good thing."
James got rid of the mask that protected his broken nose with four minutes left in the first quarter.
"I don't like it," James said. "It's that simple; just got frustrated with it early on so I took it off. It didn't help me, taking it off. It's probably a game-to-game thing."
He missed his first two attempts sans mask, tossing up a wild 14-footer that banged off the front of the rim and backboard, then botching a reverse layup. His first mask-free basket was a 5-foot running floater over Leonard with 6:26 left in the half.
"(Leonard) was a pest," Duncan said. "That's what we need him to be. He stuck his hand in there, knocked some balls away, got some steals, he contested shots. I think he did a great job overall in every aspect."
The Spurs opened the fourth quarter on a 13-6 run, returning to the breakneck attack that led to a 17-point lead in the first half. Duncan's 18-foot jumper gave San Antonio a 99-85 lead with 3:00 remaining, drawing a fist-pounding of the scorer's table by Manu Ginobili as he waited to enter the game.
The closing run was needed after the Heat kept the Spurs out of the paint early in the second half, to the point Popovich screamed, "Tony! Attack!" after his All-Star point guard walked the ball up midway through the third period.
Miami turned up the heat defensively, closing quickly on every pass. San Antonio was 7 for 22 from the field in the third quarter. Miami was 10 for 18 in the quarter, with James, Wade and Bosh scoring six points each.
Miami had cut the lead to 79-74 with 2:00 left in the third period, but could get no closer.
"They are difficult to guard," Wade said. "They have a great system and they have a very unselfish team. That is why they are one of the better teams in the league. Thy stay true to their system and believe in it."
Parker showed no signs of the lower body problems that sidelined him six games last month, driving unrestrained into the paint.
Parker played all but the final two minutes of the first quarter, going 5 for 6 from the field in scoring 10 points and dishing out three assists.
"Tony's our setup guy," Duncan said. "He runs our team, he sets our pace, sets our rhythm and he played the right way tonight."
Based on reporting by the Associated Press.
Follow us on twitter.com/foxnewslatino
Like us at facebook.com/foxnewslatino