NBA Playoffs: Lakers Lose Another to Thunder, Celtics Rebound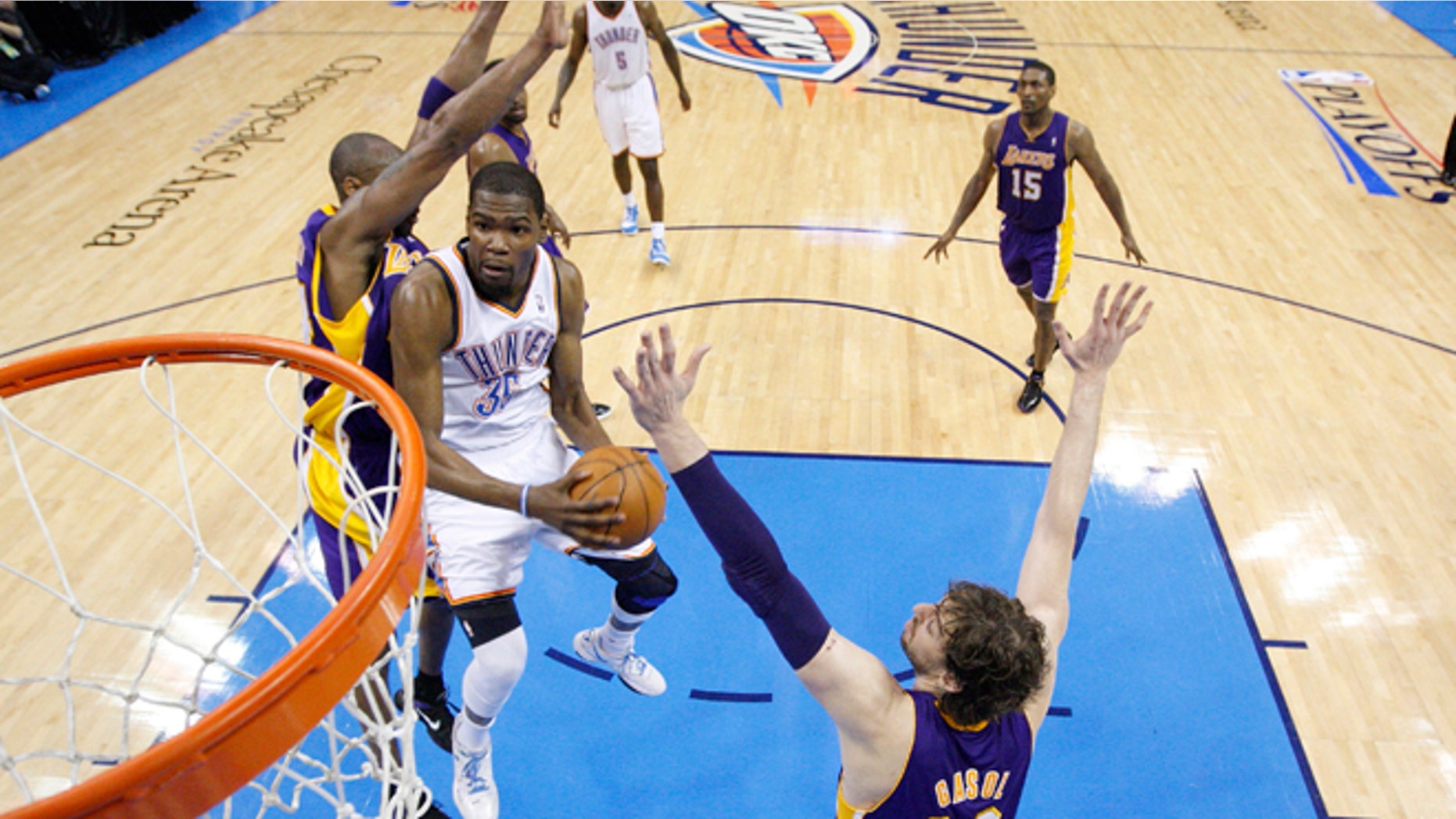 Things aren't looking good for the Los Angeles Lakers.
Kevin Durant scored 22 points and rattled in the go-ahead basket on a baseline runner with 18 seconds left, and the Oklahoma City Thunder scored the final nine points to rally for a 77-75 victory over the Los Angeles Lakers in Game 2 of the Western Conference semifinals Wednesday night.
Oklahoma City trailed by seven with 2 minutes left before surging back with a series of defensive stops by its stars to take a 2-0 lead.
Game 3 is Friday night in Los Angeles.
Kobe Bryant and Andrew Bynum scored 20 points apiece for the Lakers, who came up empty on their last six possessions after Bynum's hook shot made it 75-68 with 2:09 remaining.
Russell Westbrook added 15 points for Oklahoma City, which matched its lowest scoring total of the season but still gutted out the win.
CELTICS 107, 76ERS 91
Kevin Garnett scored 27 points, grabbed 13 rebounds, and used a dominant second quarter to help Boston beat Philadelphia and take a 2-1 lead in the Eastern Conference semifinals.
Whistled for a costly illegal pick late in a Game 2 loss, Garnett crushed the Sixers early and never let them think about a fourth-quarter rally.
Garnett scored 13 of Boston's 32 points in the second quarter and the Celtics became the first team to win by double digits. Game 1 and Game 2 were each decided by one point.
Rajon Rondo had 23 points and 14 assists. Paul Pierce, playing with a banged-up knee, had 24 points and 12 rebounds.
Game 4 is Friday in Philadelphia.
Thaddeus Young scored 22 points and Jrue Holiday had 15 for the Sixers. Lou Williams and Jodie Meeks each scored 13. Starters Elton Brand, Spencer Hawes and Evan Turner combined for only 11 points.
Based on reporting by the Associated Press.
Follow us on twitter.com/foxnewslatino
Like us at facebook.com/foxnewslatino