Nate Diaz laughs at Dana White's latest fight offer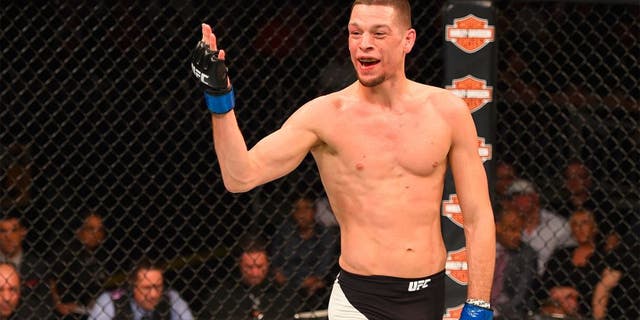 It doesn't appear Nate Diaz is too anxious to get back into action in the UFC.
Just recently, UFC president Dana White revealed that he had offered Diaz a fight to return for the first time since he lost a majority decision to Conor McGregor in one of the biggest fights in 2016.
White didn't give too many details about the fight at the time, but he commented that it's been rather difficult to get Nate or his brother Nick into the Octagon recently.
"We just offered Nate Diaz a fight, and we're waiting to hear back from him, so we'll see," White told USA Today ahead of the Super Bowl in Houston. "These guys say they want a fight. I offered Nick Diaz two fights. He turned down two fights. I offered him Robbie Lawler. Robbie Lawler accepted the fight. Then I offered him Demian Maia. Nick Diaz turned down two fights. And then we just offered Nate a fight."
According to multiple sources, the UFC was targeting a matchup between Diaz and former lightweight champion Eddie Alvarez although it doesn't look like that fight will happen.
Just after fight offer was made public, Diaz took to Twitter to offer his "counter", which made clear what he thought about the potential matchup White was giving him.
Diaz has maintained that he will only return to action for a huge fight, which would likely involve a trilogy with McGregor at some point in the future. Diaz has even gone as far as pursuing a boxing license in Nevada during his down time away from the UFC although he's never actually booked a fight.
Obviously anything can happen but judging by Diaz's response, it certainly doesn't look like he's going to be facing anyone in the UFC in the near future.