Nashville Predators star Austin Watson arrested on domestic assault charge
Nashville Predators star Austin Watson was arrested by police in Tennessee on Saturday on a charge of domestic assault.
Watson, 26, was released from jail on a $4,500 bond and was due in court on June 28, Franklin Police Lt. Charles Warner told the Associated Press.
The Predators said in a statement that they "are still gathering facts and it's not appropriate for us to comment further at this time."
JAPAN AND SENEGAL FANS IMPRESS AT WORLD CUP AFTER HELPING TO CLEAN UP STADIUMS
Team officials noted that they are taking the situation "very seriously," pledging to fully cooperate with law enforcement's investigation regarding their star forward.
NHL Deputy Commissioner Bill Daly told The Athletic the league was aware of the arrest and it would be "dealt with in due course and prior to next season."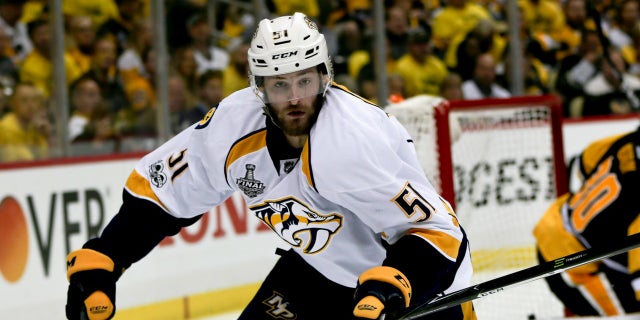 "Our focus currently is on the wellbeing and safety of Austin's wife, their child and Austin himself," he continued.
Watson was a former first-round draft pick who scored a career-high 14 goals and had five assists in 76 games during the 2017-2018 season. He had five goals and three assists in 13 playoff games.
THREE-TIME SUPER BOWL WINNER ERIK WILLIAMS' SON CHARGED WITH DOUBLE-MURDER
Watson had 23 goals and 24 assists in 216 career regular-season games, all with the Predators. He signed a three-year, $3.3 million contract last year.
Watson, along with fellow NHL players Mike Fisher, P.K. Subban and Ryan Ellis joined "Unsilence the Violence," a violence prevention program that "seeks to end the epidemic of violence against women and girls by empowering young men and boys to become the catalyst for cultural change," according to its website.
The Associated Press contributed to this report.