NASCAR Charlotte Notebook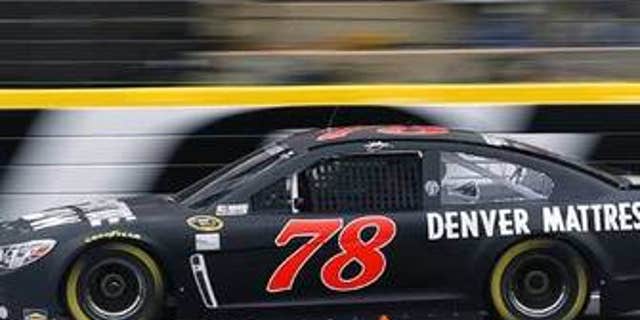 FAST FRIENDS -- Future Stewart-Haas Racing teammates Kurt Busch and Kevin Harvick topped the speed chart in Friday afternoon's final Happy Hour practice for the Bank of America 500 at Charlotte Motor Speedway, with Busch running a best lap of 190.759 miles per hour in his No. 78 Furniture Row Racing Chevrolet. Harvick was close behind at 189.613 mph in the No. 29 Richard Childress Racing Chevrolet, the same car Harvick drove to victory in its maiden outing last weekend at Kansas Speedway. Brad Keselowski, Clint Bowyer and Kyle Busch completed the top five.
Elsewhere, Carl Edwards ended Happy Hour seventh, Jimmie Johnson was eighth, Dale Earnhardt Jr. 16th and Mark Martin 17th.
But not everyone was happy during Happy Hour.
Points leader Matt Kenseth, who qualified 20th, was just 23rd fastest during the final practice, not where he wanted to be in the No. 20 Joe Gibbs Racing Toyota. But he'll have the opportunity to move forward in the field tomorrow night.
"Starting 20th is not the end of the world, it's a 500-mile race and I think that's more than enough time to get to the front," said Kenseth. "Certainly, it's going to take you longer to get there than if we would have qualified fifth or sixth."
And although he was 10th in Happy Hour, Bank of America 500 pole-sitter Jeff Gordon grazed the wall late in the session. Gordon won't have to go to a backup car.
THE NEWEST ROUSHKATEER -- Jack Roush has always had a willingness to develop young drivers, and Friday at Charlotte Motor Speedway, he introduced his newest pilot, 20-year-old Ryan Reed. A Type I diabetic, Reed will drive the No. 16 American Diabetes Association Drive to Stop Diabetes Presented by Lilly Diabetes Ford Mustang full-time in 2014 on the NASCAR Nationwide Series circuit. Reed will be compete for the series championship and rookie of the year honors next season.
Ford Motor Co. has been a staunch supporter of diabetes research and the automaker helped put this deal together. "Ford is actually how we got involved with Roush," said Reed. "We were supporting Ford's efforts with diabetes research and wanted to drive Fords, so having the Mustang adds an extra element as to how perfect this relationship is. Everyone on board is passionate about this. Everyone supports the cause and it's an amazing feeling."
Reed has three career Nationwide Series starts, with a best finish of ninth earlier this year at Richmond International Raceway. "Honestly, I'm gonna go to some tracks and have a bigger learning curve than others," Reed said. "Richmond, I showed up and adapted to the track really well. Bristol, I went there and I struggled, so there are gonna be tracks that I go to that I just take to really well and there are some tracks I'm gonna have to really work at it. I know that I have Jack Roush and all of Roush Fenway supporting me."
TRADING PLACES -- Darlington Raceway and Kansas Speedway are changing race dates for 2014, with Kansas getting the night-before-Mother's-Day race on May 10 and Darlington moving to April 12. The biggest impact is that there will be one more night race on the schedule, as both tracks will now race on Saturday nights. Darlington seemed to have a found a home with the May race date, but now it's moving again.
Roush Fenway Racing driver Greg Biffle said he's good with the change and with one more night race on the schedule. "To be perfectly honest with you, I enjoy night racing," said Biffle. "I think it's a little bit more racy, it's a little more fun. It seems like a better atmosphere if I was a fan in the evening for a night race. ... It doesn't sound like it's gonna be that big of a change for us at this point."
NASCAR is expected to release its full schedule on Tuesday and sources tell FOXSports.com that there likely will be no other significant changes in the Cup races for 2014.
SILLY SEASON -- As expected, Germain Racing will switch from Ford to Chevrolet in 2014, and has formed a technical alliance with Richard Childress Racing, similar to the relationship between RCR and Furniture Row Racing. Casey Mears, driver of No. 13 GEICO-sponsored Germain entry, drove for RCR in 2009, the same year Germain moved to the Cup Series full-time.
"Richard Childress and RCR have an extremely competitive program with a long history of winning races and championships," said team owner Bob Germain Jr. "They have great people and tremendous resources which will allow us to continue to improve our GEICO team's performance in 2014 and beyond."
LIKE FATHER, LIKE SON -- Jared Irvan, the 15-year-old son of former NASCAR racer Ernie Irvan, will race full-time next year in the PASS Super Late Model Series. The Irvan family will be team owners and will prep Jared's car, which, will have full sponsorship from Auramist, a misting fan company.
"I really learned the most about his career from watching videos," Jared said of his famous father. "I learned that miracles happen. I was only one when he quit racing, so I couldn't be there in person, so I just had to learn everything from videos. I'm just trying to learn more about what I need to do to make it in racing."