NASCAR announces 2017 Premier Series rules package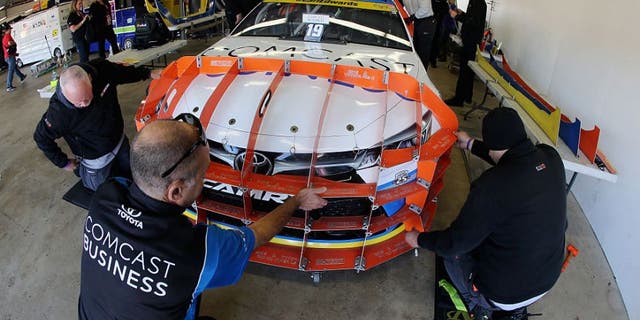 NASCAR took the wraps off of its 2017 Premier Series rules Friday, with very little in the way of surprises.
For the second consecutive year, the sanctioning body is reducing aerodynamic downforce, which makes the cars faster in a straight line, but much slower in the middle of the corners, where passing will presumably be a good bit easier.
The aero package, which features a smaller front splitter and rear spoiler, is similar to what NASCAR tested at Kentucky and in both Michigan Sprint Cup races this year, a package most drivers seemed to support.
"Anything we can do to take aerodynamic dependency away from these cars I believe makes the racing better and makes it more fun and showcases the driver's talent and crew chief's ability to change," said Carl Edwards of Joe Gibbs Racing. "That's good stuff. Less aero-dependency is good, so good job NASCAR -- sounds like it's going to be fun."
"We are all wanting slower center of corner speeds," said six-time NASCAR Sprint Cup Series champion Jimmie Johnson. "We all feel that will put on a better race.
"The slower the center of corner speed is - the more off throttle time we create, the more opportunities there are to pass, the more opportunities there are to make mistakes, the more opportunities you have to work on the handling of your race car," said Johnson. "Directionally, that is the way the sport is going."
Another interesting tidbit: NASCAR will cut the allocation of tires to teams next year and drivers will have to start the race on the same tires they qualify with.
2017 RULES HIGHLIGHTS
Race Package
Splitter reduced by 3" in outboard regions
Spoiler reduced in height to 2 3/8" x 61"
Tapered rear deck fin
Net rear steer -- zero
Safety
Anti-intrusion plating and structural foot box (mandatory at superspeedways, optional elsewhere)
Toe board foam (mandatory at superspeedways, optional elsewhere)
Roof hatch (mandatory at superspeedways, optional elsewhere)
Steering column mounting
Garage-only fuel coupler
Superspeedways
Restrictor plate reduced to 7/8"
Vehicle weight increased by 20 lbs to accommodate structural changes
Tires
Reduced tire allotment
Start the race on tires used in qualifying