Muschamp hire reverberates across SEC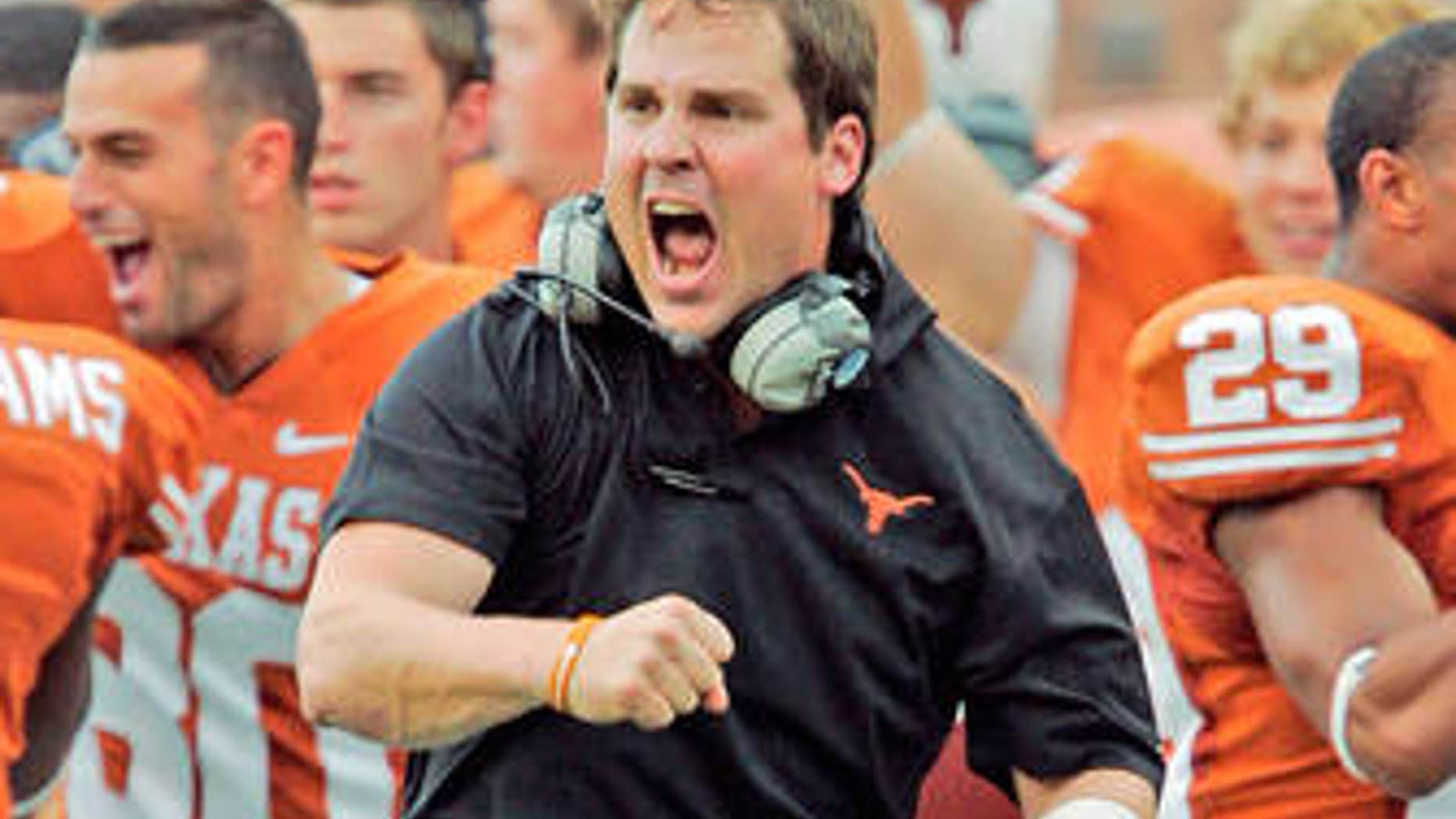 On a night that was supposed to be Cameron Newton's, Florida sent a resounding message to the rest of the Southeastern Conference.
Boom, as in Coach Boom.
That's the nickname of Will Muschamp, the fiery former Texas defensive coordinator and head-coach-in-waiting, who the Gators surprisingly named Saturday night as their new coach.
It's a risk-versus-reward hire because the 39-year-old has never been a head coach. He also has the unenviable task of succeeding Urban Meyer, who won two national championships.
But the move fits Florida athletic director Jeremy Foley's recent trend of hiring coaches who are rising stars.
Yet make no mistake about it, with Muschamp's connections to the SEC's elite programs, the hiring has rocked the conference. It's seen his stingier-than-Scrooge defenses, boot-to-your-backside intensity and mercenary recruiting.
And with that all turned loose with Florida's reputation and talent base, there's now uneasiness in the SEC.
Georgia is trembling because Muschamp played there and had been mentioned as a possible successor to struggling Bulldogs coach Mark Richt. He arrived a walk-on in 1990 and left as a starting safety as well as defensive co-captain.
There's angst at Louisiana State, where Muschamp coached from 2001-04. He was the Tigers' defensive coordinator under then-coach Nick Saban when they won the national championship in 2003 with a defense that allowed the Football Bowl Subdivision's fewest points and yards that season.
Auburn was already nervous about whether its achievements from this season will be stripped because of the pay-for-play scheme involving Newton, but it's downright scared now. Muschamp was the Tigers' defensive coordinator for the 2006 and 2007 seasons before Texas lured him away.
Even Saban is paying attention at Alabama with Florida's hiring of his protege. He knows he was fortunate to beat Muschamp and Texas in last season's national title game.
Just like he's aware of the wars that he now faces with the marriage of forces in Florida and Muschamp.
But the biggest fallout from Muschamp's hiring is at Texas, which is now burning like Rome without him. Not only did the Longhorns lose their future coach, but now their edge is gone too.
Muschamp struck fear in opponents with his passion and relentlessness. Recruits identified with that and more wanted to play for him, not grandfatherly Longhorns coach Mack Brown.
As miserable as Texas was this season with its 5-7 record, it might have gone winless in the Big 12 without Muschamp's defense, even though it uncharacteristically struggled.
Now, the Longhorns are defenseless without him in what had already been such a turbulent offseason there have been rumors that Brown might retire. He might want to seriously consider that now because he doesn't have an offensive or defensive coordinator for how his twilight will be remembered.
And with Muschamp possibly taking running backs coach Major Applewhite and other Texas assistants with him to Florida, Brown might not have much of a staff left given that he now has four positions open. The vultures are already circling his recruiting class ranked as the nation's best and commitments are bound to start dropping like drunks on Sixth Street.
But that's what happens when you name Muschamp as head-coach-in-waiting in 2008 and don't give a timeline for him taking over for Brown. It blows up in your face.
Actually, it goes boom -- just like the SEC did Saturday night.