Mularkey wants to see more big plays from Titans' running backs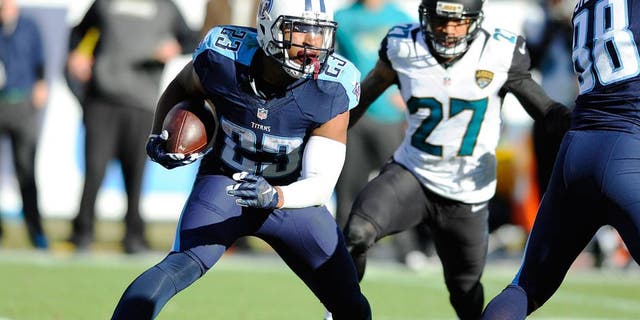 NEWYou can now listen to Fox News articles!
The Tennessee Titans are coming off a a 210-yard rushing performance in Sunday's 42-39 win over the Jacksonville Jaguars, but interim head coach Mike Mularkey would still like to see more from his running backs.
With 112 of Sunday's yards coming courtesy of rookie quarterback Marcus Mariota, Mularkey said the team's backs, Antonio Andrews and David Cobb, need to do better in producing long runs.
"I'd like to see both of these guys break some of these tackles so that when they're on the last line of defense, if you can get through that, we're going to have some big plays that are going to lead to more scores," Mularkey said, per the team's official website.
Mularkey said Cobb, who has 45 yards on 25 carries in three games since being activated from injured reserve, should benefit from the experience he'll get over the final four weeks of the season. The Titans selected Cobb in the fifth round of the 2015 draft out of the University of Minnesota.
"Some of it is vision, some of it's not understanding the speed and how quickly everything kind of comes together,'' Mularkey said. "You can't start cutting back when they're coming that way. Stick with what you saw first, believe in it and try to make a play."
While Mularkey is concerned about the lack of long runs, even short gains may be difficult to come by this week. The Titans' Week 14 opponent, the New York Jets, have the NFL's best run defense, giving up just 83.5 rushing yards per game.