MSU hopes RB depth pays off in multiple ways against Henry, Alabama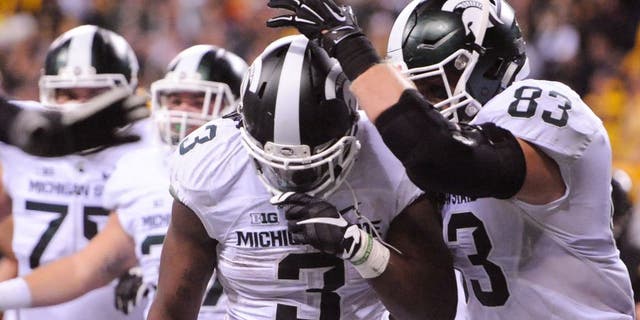 NEWYou can now listen to Fox News articles!
Strength in numbers figures to help Michigan State deal with Alabama star Derrick Henry -- on both sides of the ball.
Yes, of course the Spartans plan to swarm the 6-foot-3, 242-pound Heisman Trophy winner with as many defenders as possible when he has the ball, but what about on the other side of the ball?
MSU has started three different players at running back this season, and all of them have had their share of success.
L.J. Scott, Madre London and Gerald Holmes all have topped the 100-yard mark in a game once this season, and all have at least 450 yards on the year.
Scott leads the way with 691 while Holmes has 534 and London has 489.
The trio stepped into a void left by two-time 1,000-yard rusher Jeremy Langford, and all three have been needed as none were able to make it all the way through without feeling the effects of some type of injury.
"It talks about chemistry on our football team," coach Mark Dantonio said Tuesday during Cotton Bowl media day.
"That creates energy. When you have that type of situation, I think it permeates throughout your football team. You see that in other positions as well."
Though none are as big as Henry, all bring a power element to the field, and Dantonio revealed the team took advantage of that depth while preparing for Alabama's top offensive threat.
"I think really what's outstanding is we've got to be able to simulate Henry -- that's not easy to do," Dantonio said. "So, consequently, every one of those running backs would come down one period a day and work as a scout team player for our defense. And you never heard any moaning or groaning about it. They came down and they played. I think that's a credit to them, their character, their character as people and just their understanding of the big picture, I think, here."